David Beede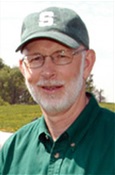 beede@msu.edu
Telephone: 517-432-5400

C.E. Meadows Endowed Chair
---
Location:
2265K Anthony Hall
C.E. Meadows Endowed Chair and Professor, Dairy Cattle Management; Dairy Cattle Nutrition and Metabolism; Environmental Nutrient Management; Transition Cow Management and Nutrition
Webpages
Education
BS, Colorado State University, Fort Collins
MS, University of Nebraska, Lincoln
PhD, University of Kentucky, Lexington
Responsibility
50% Research, 50% Extension
The C.E. Meadows Endowed Chair performs and promotes outstanding scholarly research, teaching, and extension activities in response to the needs of the Michigan dairy industry. The position provides intellectual and administrative leadership to the MSU dairy faculty and staff, and the dairy industry of the state in a broad area encompassing dairy management. It promotes an appreciation for the contributions of both biological and economic disciplines for efficient and environmentally sustainable dairy production.
Research
The position conducts research related to dairy cattle management and nutrition.
Extension
The Extension program includes interaction with and facilitation of activities among MSU Extension Dairy Team members, and interaction among MSU dairy researchers, teachers, and extension personnel in various activities through the MSU Dairy Programs Group. The Meadows Chair interacts with dairy industry organizations and leadership to facilitate projects and programs for the enhancement of the Michigan dairy industry and MSU dairy programs. The position contributes lectures in courses pertaining to dairy management and nutrition.