Mike Hamm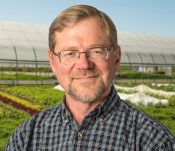 Interim Department Chair, C.S. Mott Professor of Sustainable Agriculture; Senior Fellow, Center for Regional Food Systems
mhamm@msu.edu
Telephone: (517) 432-1611
Work Location / Address: 312B Natural Resources
Employed by / Works For: Department of Community Sustainability
Michael Hamm is the C. S. Mott Professor of Sustainable Agriculture at Michigan State University and Senior Fellow of the Center for Regional Food Systems at MSU.
Mike is affiliated with the Departments of Community Sustainability; Plant, Soil, and Microbial Sciences; and Food Science and Human Nutrition. His appointment encompasses teaching, research and outreach. Community food security, community and sustainable food systems are research interest areas.
The mission of the MSU Center for Regional Food Systems is to engage the people of Michigan, the United States and the world in applied research, education and outreach to develop regionally integrated, sustainable food systems.
Prior to moving to MSU, he was Dean of Academic and Student Programs for Cook College, Rutgers University. As a faculty member at Rutgers University he was co-founder and director of the New Jersey Urban Ecology Program, an effort that brings together individuals from diverse backgrounds to address sustainable food systems in New Jersey. He was also facilitator for the New Jersey Cooperative Gleaning Network since 1998 and the founding director of the Cook Student Organic Farm from 1993 to 1998. He was board member and board president of the Northeast Organic Farming Association of New Jersey.
Michael Hamm's Curriculum Vitae