Sandeep Kumar Rajput
Assistant Professor, Mammalian Reproduction and Genomics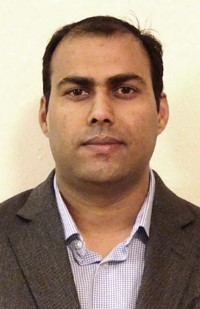 srajput@msu.edu
Telephone: 517-432-0671

---
Location:
1261 Anthony Hall
---
---
Education
BS, MJP Rohilkhand University, Bareilly, India
MS, HNB Garhwal University, Srinagar, India
PhD, Banaras Hindu University, Varanasi, India
Postdoc, Michigan State University
Research
My research seeks fundamental understanding of molecular factors and signaling pathways that regulate oocyte, early embryo and ovarian follicular development in mammals. We take advantage of cellular, molecular, pharmacological and functional genomic approaches to understand molecular determinants of fertility in farm animal species like cattle and buffalo. The overarching goal of my research is to understand the causes of infertility and design treatments to improve reproductive performance in farm animals with potential human applications.
Publications
Visit MSU Scholars for a summary of publications (Research Output).