Denae Friedheim
Interim Director & Farm Manager – Student Organic Farm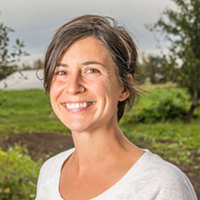 friedhei@msu.edu
Telephone: 517-230-7987

---
Center for Regional Food Systems

---
Topic Areas:
Michigan's Emerging Farmers, MSU Student Organic Farm, Organic Farmer Training Program
Although she hails originally from the Lone-Star State, Denae has made Michigan her official home. She first came to the Great Lakes region to study at Saint Mary's College in South Bend, IN where she majored in Biology and Sociology. Following graduation, she moved to Chicago to work in public health research at Northwestern University and University of Illinois, Chicago. It was there that she discovered her interest in farming, albeit from a systems perspective. She moved to Michigan in 2008 and completed the Organic Farming Certificate Program in 2009. Along with other program staff, she collaboratively redesigned the program into its non-credit format in 2010. Between 2010 and 2015 held several different positions at the farm, including Propagation Manager, CSA Member Services Coordinator, OFTP Program Manager, Wholesale Manager, and Recruitment Coordinator.

In 2011 Denae started Foodshed Farm, a sustainable agriculture business that specialized in growing seedlings for local farmers and gardeners, specialty produce for local restaurants, CSA, and farmers' market customers, and consulting with other small scale growers. After four years of great experience running Foodshed, she came back to the SOF full time as the Production Manager in 2015. She became the Farm Manager in 2016 and is now the Interim Director, working collaboratively with the Farm's staff, Advisory Group, and Advocacy Council to ensure that the Farm's programs and systems are sustainable.