Steve B. Harsh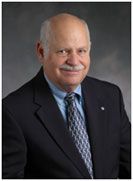 Department of Agricultural, Food, and Resource Economics
Professor Emeritus
AEC/AFRE Faculty, 1968 to 2012
Email: harsh@msu.edu
Okemos, Michigan
Degree:
Ph.D., 1969. Cornell University
M.S., 1966. Cornell University
B.S., 1963. University of Nebraska
---
Bio-Info
Steve B. Harsh, Emeritus Professor and Extension Specialist in the Department of Agricultural, Food and Resource Economics at Michigan State University.
Steve joined the MSU faculty in 1968. He worked in teaching, research and extension appointments. He conducted research and outreach programs related to the role of information systems for supporting management, economics of cooperative and livestock production, strategic planning, tactical and operational decision-making, and human resource management.
Dr. Harsh received his undergraduate degree from the University of Nebraska and graduate degrees from Cornell University. He has been a Visiting Professor at the University of Naples, Italy and Justus-Liebig University, Giessen Germany. His research interests are in the areas of production economics, information systems for management support, economics of alternative energy systems, human resources management, and strategic and operations management. He taught courses in operations management and quantitative methods. He also had Extension appointment that allowed him to closely work with agricultural advisors and farming and agribusiness firms. He published widely with more than 250 publications including a book and several chapters in books. He is the recipient of several national and international awards for his efforts in the area of information systems and he has lectured widely on this topic.
Dr. Harsh became known internationally as one of the first researchers to pioneer and further the use of information technology in agriculture. Known for his scholarly based outreach programs for agricultural industries, he has provided steady leadership in coordinating and training Extension educators. More recently, his efforts have focused on renewable energy, particularly wind energy. He has collaborated with U.S. and European colleagues on scientific articles and organizing international conferences.
Although his classes were challenging, Dr. Harsh had a wide reputation of being a caring teacher. Dr. Harsh is a past recipient of MSU's Distinguished Faculty Award, the Alexander von Humboldt Fellowship, the John A. Hannah Award for Extension Excellence, USDA Superior Service Award, and has chaired sessions of the Salzburg Seminar.
Dr. Harsh served on the MSU Athletic Council, college and university curriculum committees, University Academic Council, and as director of the College Computer Services and Budget Office. Dr. Harsh also has given tremendously as a volunteer for the Chief Okemos Council of the Boy Scouts of America, and I'm confident he'll continue serving in many ways in retirement.
Dr. Harsh's professional interests included:
• Design of a computerized farm cost accounting system
• Summarization of financial information for various types of Michigan agriculture
• Size and location analysis of farm supply warehousing facilities
• Economics of large-scale machinery systems on cash crop farms
• Computerized information systems
• The economic evaluation of alternative on-farm crop drying and storage facilities
• Use of knowledge based systems to analyze financial documents
• The design and application of computer systems to the problems of agriculture
• Economics of animal health systems
• Development of a prototype decision support system for Michigan dairy/crop farms
• Use of expert systems to address agricultural problems
• On-farm manure management strategic planning for Michigan dairy operations
• Information needs of agricultural producers
• Strategic planning of dairy operations
Students
Student Mentoring
Teaching Experience
Taught undergraduate and graduate courses in farm management and operations research. Although his classes were challenging, Dr. Harsh had a wide reputation of being a caring teacher.
Pubs Online
View Harsh Publications at Google Scholar
Selected publications, many downloadable
Notable Docs/Pres