James Kielbaso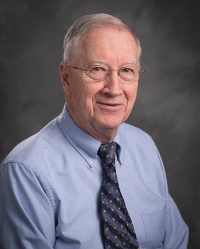 Professor Emeritus, Urban Forestry and Arboriculture
---
Location:
117 Natural Resources Building
Research Interests
Amelioration of heavily compacted soils; soil and planting.
Improvements on heavy clay soil
Status of street trees nationally
Management practices of U.S. urban foresters
Urban tree nitrogen fertilizer comparison
Dogwood genetic differences
Diplodia-resistant Austrian pine
Social attitudes toward neighborhood trees
Herbicide use by U.S. utilities.
Dendroremidiation of toxic/polluted soils
Sulfur treatment under sidewalks for reduced root problems
Activities
Urban forestry extension
Annually coordinate with the Department of Forestry's Tree Research Center to grow and facilitate distribution of Champion Catalpa seedlings to the legislative districts
Chair, MS Guidance Committee for Kevin Nietering. 2015-2017
Mid-Michigan Agriculture and Natural Resources Club. Membership Committee. 2015-current
Science Advisory Board for America Forests Assoc. 2011-current
Board of Directors, Integrated Vegetation Management, Partners. 2010-current
Meridian Township, Land Preservation Advisory Board. 2007-current. Chair, 2011-2017
Michigan Forestry and Park Association – President. 2005-current
Meridian Township, Environmental Commission Member. 2001-current
MSU Foresters Alumni Association - Treasurer - 25 years. 1991- 2016
Consulted with Sterling State Park at Monroe, Michigan, to access conditions of trees along shoreline after storm. Summer 2015
Patriarche Park Evaluation of Hazard Trees for Playground Renovation. 2013
Led MSUAA Evening College, MSU Tree Walkabout, Fall Semesters 2007-2012
Chair, Ph.D. Guidance Committee for Charles Wade. 2005-2010
Dominican Republic Trip with Michigan Partners of the Americas. Explored opportunities with farmer to farmer program. 2009
External Ph.D. Committee member for Caroline Law, student of Professor C.Y. Jim. Hong Kong University. 2009
Served on National Urban & Community Forestry Advisory Council, U.S. Secretary of Agriculture, 2006-2009
Farm Lane Society Charter Member, 2004
Study abroad: Brazil - Biodiversity, Ecosystem Protection and Management held summer semesters 2001-2004
Represented MSU Alumni Assoc. during travel experiences – Mediterranean Adventure, Baltic Cruise and Columbia River Cruise
Consult to help create a maintenance plan for the white pine, commonly known as "Carl," at the State Library and Michigan History Museum atrium, 1989-current
President of International Society of Arboriculture-1994
Awards
ANR Alumni Distinguished Faculty Award-1991
ISA Award for Excellence in Arboricultural Education, 2001
ISA Award for Arboricultural Research-1984
ISA Author's Citation-1979
Programs and Grants
Monitoring the growth and development of urban forests over time in Lincoln, Nebraska, and Bowling Green, Ohio (American Forestry Association, U.S. Forest Service National Urban Forest Inventory Project)
Michigan street tree conditions - A 20 city study
Development planning for an urban forestry nature center (MSU Foundation)
Dendroremidiation of polluted soils, MIDEQ-funded program
Selected Publications
Wade, C. and J. Kielbaso. 2014. The Lack of Sustainability by not Replacing Dead or Hazard Trees in United States, Midwest Cities. Hiroshima. The International Journal of Environmental Sustainability 9(4):61.
Wade, C. and J. Kielbaso. 2013. Green Infrastructure: Condition Changes in Six USA Urban Forests Nordic Journal of Architectural Research. Issue 2, 2013:255-274.
Kielbaso. Nov 30, 2010. Protection and Management of Urban Ecosystems, Brazilian Congress on Urban Arboriculture. Bento Goncalves, RS.
Kielbaso, J. 2008. Management of Urban Forests in the United States. Chapter 15 in Ecology, Planning, and Management of Urban Forests - International Perspectives. Editors: M. Carreiro, Y. Song, J. Wu. Springer Series on Environmental Management, N.Y.:241-258.
J. Eckert, M. O'Connor, & J. Kielbaso. 2004. The effects of utility line tree trimming on the spread of oak wilt. Tree Barks - Newsletter of the Michigan Forestry and Park Association. Nov-Dec 2004 15: (5)6-7.
Kielbaso, J.J. 1995. The urban environment and the tree. Proceedings: The First Italian Conference on the Tree in the City. L'Albero in Citta Prime Giornate Internazionali Meranesi: 37-50. Merano, Italy. April. 4-6, 1995.
Kielbaso, J.J. 1994. Urban forestry - the international situation. Anais: II Congresso Brasileiro de Arborizacao Urbana: 3-12. Sao Luis, Brazil. September 18-24, 1994.
Heatley, R.C., J.J. Kielbaso and G.S. Howell. 1994. Environmental adaptation and ornamental display of Cornus florida ecotypes. JOA 20(6): 305-309.
Kielbaso, J.J., M.N. de Araujo, A.J. de Araujo, and W.N. Cannon. 1993. Monitoring the growth and development of urban forests in Bowling Green, Ohio and Lincoln, Nebraska. Submitted. American Forests National Urban Forest Inventory.
Kielbaso, J.J. and T.S. Bynum. 1993. Exploration of an urban forestry/juvenile justice model for adjudicated youth. Department of Forestry and School of Criminal Justice. Michigan State University. East Lansing, MI.
Kielbaso, J.J. 1993. Trees need love too. First Canadian Urban Forests Conference. May. Winnipeg, Manitoba.
Kielbaso, J.J. 1993. Urban forestry and quality of life in cities. First Panamerican Forestry Conference. Sept. Curitiba, Brasil.
Sampson, R.N., G.A. Moll, and J.J. Kielbaso. 1992. Opportunities to increase urban forests and the potential impacts on carbon storage and conservation. pp. 51-72. Cpt. 5 in: Forests and Global Change. (R.N. Sampson and D. Hair, eds.). American Forests, Washington, DC.
Wu, Z., S. Jamieson, and J. Kielbaso. 1991. Urban forest pest management. J. of Arboriculture 17(6):150-158.
Kielbaso, J. James and Vincent Cotrone. 1989. The state of the urban forest. Proceedings of Fourth Urban Forestry Conference. St. Louis 1989. p. 11-18.
Kielbaso, J.J., B. Beauchamp, K. Larison and C. Randall. 1988. "Trends in Urban Forestry Management", Baseline Data Report, Vol 20, NO. 1. (Washington, D.C.: International City Management Assoc., Jan/Feb 1988).
Smiley, E.T., J.J. Kielbaso and P.V. Nguyen. 1986. Soil factors associated with manganese deficiency of urban sugar and red maples. Journal of Arboriculture. 12(7): 169-173.
Presentations
Great Lakes Trade Expo. 2017. Roots under Sidewalks after Sulfur Application. Kevin Nietering, Jim Kielbaso, Phu Nguyen.
Lansing Farmers Club – 2016. How well do you know your trees?
15th European Forum on Urban Forestry Conference. Urban Forests – Ecosystem Services and Sustainable Maintenance. Do Street Trees Tendencies Represent Trends in the Overall Urban Forest? 2012. Wade and Kielbaso. Leipzig, Germany.
Great Lakes Trade Expo. 2011. Michigan Tree Valuation. Kielbaso, Cool, and O'Connor.
The USA Experience and Practice in promoting Urban and Peri-Urban Forestry. 2011. FAO International Workshop. Developing guidelines for decision and policy makers: Trees and forests for healthy cities. Kielbaso, Low, Rodbell, Wade, and Werner.
NUCFAC - A Citizen Advisory Council to Improve Urban Forestry in the U.S. 2010. Beijing.
First China International Afforestation Exhibition-Nanjing. 2005. Urban Forestry and Its Sustainable Development.