Joel Betts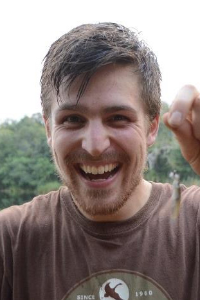 ---
Location:
13 Natural Resources
Major Advisor: Jerry Urquhart
Biography: Joel grew up an outdoorsman, with a passion for fish and plants, in Michigan's streams in particular. He loves learning from different cultures and is passionate about global conservation policy and practice. Joel finished his undergrad at Calvin College in Grand Rapids, MI, with degrees in Biology and International Development, and focuses in Spanish and GIS. Before coming to MSU he worked in stream restoration and monitoring in Michigan and Alaska, and in plant research in Michigan, Alaska, and Puerto Rico. His master's research under Dr. Jerry Urquhart will be assessing the impact of illegal chemical fishing and deforestation on fish populations and water quality in Rama and Kriol indigenous territory on the Caribbean coast of Nicaragua. He is supported by the Fulbright US Student Program. He hopes his research will provide evidence of the detrimental illegal activity in the this globally important and diversity-rich forest, for use by local government and non-profits in conservation advocacy. He will also be teaching two Cell & Organismal Biology labs per semester for Lyman Briggs College in Holmes Hall.