Joel Betts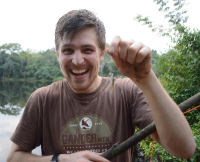 ---
Location:
13 Natural Resources
---
Department of Fisheries and Wildlife

---
Major Advisor: Jerry Urquhart
Biography: Joel grew up an outdoorsman, with a passion for fish and plants, in Michigan's streams in particular. He loves learning from different cultures and is passionate about global conservation policy and practice. Joel finished his undergrad at Calvin College in Grand Rapids, MI, with degrees in Biology and International Development, and focuses in Spanish and GIS. During summers, he worked for the Au Sable Institute near Traverse City, assessing the impacts of the Boardman River dam removal on macroinvertebrates and water quality. Since then he has worked in salmon habitat assessment in Alaska, on seedling surveys for an LTER in El Yunque Rainforest, Puerto Rico, and as a green infrastructure associate installing rain-gardens for Plaster Creek Stewards, in Grand Rapids. His master's research under Dr. Jerry Urquhart will be assessing the impact of deforestation and land use change on fish populations and water quality in the Rio Indio watershed in the Indio-Maiz Biological Reserve/Rama indigenous territory on the Caribbean coast of Nicaragua. He hopes to provide insight to the Rama people on why their River's fishery has been degrading, as well as raise awareness about the astonishing rate of deforestation in one of Nicaragua's last remaining chunks of primary rain forest, and contribute to its conservation.He will also be teaching two Cell & Organismal Biology labs for Lyman Briggs College in Holmes Hall.