Jordan Burroughs M.S.
Specialist; Wildlife Outreach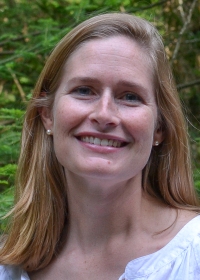 pusater3@msu.edu
Telephone: 517-353-4872

---
Location:
13C Natural Resources
---
Department of Fisheries and Wildlife

---
Area of Expertise: Community-based wildlife management; integration of human dimensions in wildlife management; program evaluation; fish and wildlife health implications and policy
Education
M.S., Fisheries and Wildlife, Michigan State University
B.S., Fisheries and Wildlife, University of Missouri-Columbia
Background
My position, Wildlife Outreach Specialist, seeks to improve quality and sustainability of human environments and natural resources in Michigan. Through outreach and education, and by expanding and enriching communication with stakeholders, specific objectives include: to promote stewardship and sound decision-making about management of wildlife, their habitats, and interactions among stakeholders in wildlife management; and to improve stakeholder knowledge of wildlife and wildlife management.
Selected Publications
Burroughs, Jordan Pusateri, S.J. Riley, G.J. Hickling, W.W. Taylor. 2006. Preparedness and capacity of agencies to manage Chronic Wasting Disease. Human Dimensions of Wildlife Journal 11(3):227-228.
*Burroughs, Jordan Pusateri , H. Campa, III, S.R. Winterstein, B.A. Rudolph, and W.E. Moritz. 2006. Cause-specific mortality, survival, and home ranges of white-tailed deer fawns in southwestern Lower Michigan. Journal of Wildlife Management 70(3):743-751.
Pusateri, J.S. , H. Campa, III, S.R. Winterstein, W.E. Moritz, and B.A. Rudolph. 2003. Born Survivors. Michigan Out-of-Doors Magazine, July. pp 14-17.
*peer-reviewed
Additional Information
Learn to Hunt - Turkey: April 2 & May 20-22, 2016