Justin Waraniak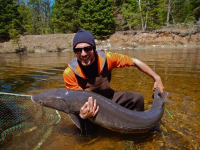 ---
Location:
33 Natural Resources
---
Department of Fisheries and Wildlife

---
Major Advisor: Kim Scribner
Biography: I am a new master's student working in Dr. Scribner's lab. I did my undergraduate degree in Ecology & Evolutionary Biology at the University of Michigan. My current project is focused on lake sturgeon and the predator-prey dynamics of the fish and macroinvertebrate communities that interact with larval sturgeon as they move from the spawning grounds to more suitable nursery habitat. Besides fish, my interests also include running, playing/discovering music, cooking good food, and drinking good beer.