Karen Russcher ASLA, RLA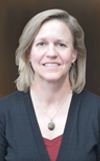 karenrus@msu.edu
Telephone: (517) 884-6690

School of Planning, Design and Construction
Instructor, Landscape Architecture
Human Ecology Building
552 W. Circle Drive, Room 203G
East Lansing, MI 48824
Area of Expertise:
Research Interests: Large-scale master planning, streetscape, mixed-use urban design.
---
Degree:
Bachelors: Bachelor in landscape architecture from the University of Kentucky.
Masters: Master of landscape architecture from Harvard University.
---
CV: File Download
Karen Russcher is an instructor in the Landscape Architecture Program in the School of Planning, Design and Construction at MSU. She has been practicing Landscape Architecture and Master Planning for more than 23 years in North Carolina, California and Michigan. Russcher received her Master in Landscape Architecture from Harvard Graduate School of Design in 1992 and a Bachelor of Science in Landscape Architecture from the University of Kentucky in 1990. She has extensive experience in large-scale master planning, including educational, recreation and corporate campuses, as well as Streetscape and Mixed-use Urban Design projects. While in North Carolina, Russcher was a principal with LandDesign and participated in many large-scale master planning projects in Charlotte, NC, as well as surrounding states. Her love of the natural environment brought her to California, where she focused on sustainable design practices carefully incorporating best management practices that connect the built environment with the natural environment. Russcher is an avid hiker and leads hiking groups teaching people about local natural systems, flora and fauna. Her passion for teaching design and appreciation for nature has helped to define creative solutions that integrate with the environment.