Katelyn King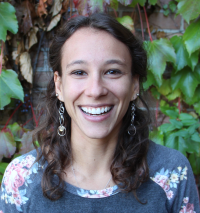 ---
Location:
13 Natural Resources
Major Advisor: Kendra Spence Cheruvelil
Hometown: Harrisonburg, VA
Biography: Katelyn is currently a PhD student in the Data Intensive Landscape Limnology Lab (DLL Lab). Her research interests include the study of connectivity between lake, wetland, and stream ecosystems and how that influences nutrient and biota patterns over large spatial scales. Prior to starting at MSU, Katelyn worked for 4 years as a Bioprocessing Engineer for a pharmaceutical company in Virginia. She worked on large scale cellular fermentation, recovery of cellular proteins, and protein purification through chromatography. She received her B.S. in Biology from the University of Mary Washington in Fredericksburg, VA. She performed undergraduate research in the Rappahannock River, studying fish species richness and recovery of the American Shad population after re-stocking efforts.