Liang Jia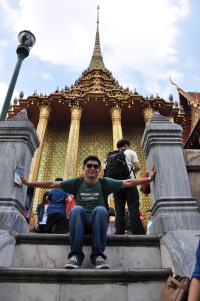 jialian1@msu.edu
Telephone: 5174-432-3314

---
Location:
158A Giltner Hall
Major Advisor: Weiming Li
Hometown: Shanghai, China
Biography: I am Liang Jia from Shanghai, which is a big and modern metropolis in China. My research background focuses on the cell and molecular biology, fish physiology, fish comparative endocrinology, genomics, and epigenetics. Now I am working with Dr. Weiming Li on sea lamprey physiology project. Our academic interests are to elucidate which pheromones or chemical compounds could activate the corresponding olfaction receptors, which belong to the GPCR (G-protein coupled receptor) gene superfamily. Our final goal is to develop a better understanding of the GPCR gene regulating pathways and modification mechanism. In addition to have a great Ph.D. program and great people to work with, I am fortunate to have a wonderful family and quite a lot of hobbies. My wife, Wang Ya, was the alumna when we met in Shanghai Ocean University in 2010. We got married in 2013, and now have a daughter Jia Yige (Nickname: Gege). I am a crazy basketball fan, and my NBA home-team is the Houston Rockets. I also like watching movies, fishing, traveling, music, as well as watching football games and NBA. In short, it is a great opportunity to study at MSU and the Department of Fisheries and Wildlife, which has a stimulating and enjoyable intellectual environment. I believe my PhD program here will be challenging and rewarding!