Mark Kuykendall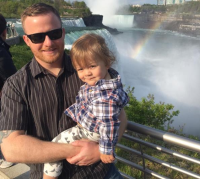 ---
Location:
13 Natural Resources
---
Department of Fisheries and Wildlife

---
Major Advisor: Mark Axelrod
Biography: Mark's master's degree at Northwestern focused on science writing, which he does a bit of here at MSU, and in particular he focused on wildlife and environmental reporting. Mark was an officer in the U.S. Army for about 5 years, and has an undergraduate degree from the University of Michigan in political science. His PhD work will combine these topics: resource scarcity and conflict, the intersections of war and the environment, and the relationships between fisheries and wildlife and the international politics of human confrontation. Mark is married with a young son and two dogs. He is originally from the Ann Arbor, Michigan, area originally, and now lives in Williamston.