Nicholas McCann
Michigan Good Food Fund Value Chain Specialist, CRFS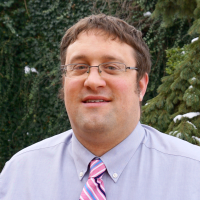 nemccann@msu.edu
Telephone: 517-355-6456

---
Location:
Natural Resources RM 303
---
Center for Regional Food Systems
Department of Community Sustainability

---
CSUS Specialists & Fixed-Term Faculty

---
Topic Areas:
Michigan Meat Network, Michigan Good Food Fund
Nick joined the team at CRFS in November of 2015. His statewide work focuses on the Michigan Good Food Fund. He holds an MS in Sustainable Agriculture and an MBA from Iowa State University. Prior to joining CRFS, Nick was a value chain specialist with Iowa State University Extension and Outreach. There he founded a food hub, worked on small meat plant process improvement, and provided technical assistance to small and midsize farmers. Nick has ten years of experience working on value chain development including sales, distribution/logistic, manufacturing, and general management.