Nathalie M. Me-Nsope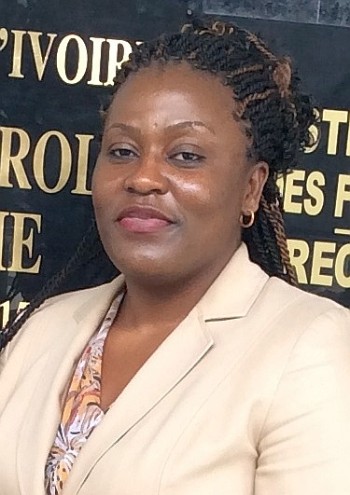 mensopen@msu.edu
Telephone: 517-884-8504

FOOD SECURITY GROUP
Assistant Professor, International Development
308 Manly Miles, 1405 S. Harrison Road.
East Lansing MI 48824
Degree:
Ph.D., Michigan State University
M.S., Michigan State University
M.A., University of York, United Kingdom
B.Sc., University of Buea, Cameroon
---
Dr. Me-Nsope joined the AFRE faculty at Michigan State University in 2015 as a fixed-term assistant professor of International Development. She worked with the Food Security Research Group, and her most recent activities include: analyzing the nutritional impact of staple food substitution in West Africa using quantitative methods; conducting case studies to understand how smallholder rice and cassava farmers in Ghana link to profitable markets; and a qualitative assessment of the impacts of USAID/Yaajeende's "Pass on the Gift" program, a Feed the Future project designed to reduce malnutrition in Senegal's northeastern zones through the gifting of animals.
Prior to graduate studies at MSU, Dr. Me-Nsope studied gender and development in Cameroon and in the United Kingdom, and was later employed with the Gender and Development Unit of INSER and Gender Lenses (LLC) in Cameroon. Since 2013, she has been serving as the Gender Lead for the Global Center for Food Systems Innovation (GCFSI), a USAID Innovation Lab at MSU. Dr. Me-Nsope has been part of several efforts to improve gender integration in agricultural programs and policies targeting household food security, nutrition and poverty through agricultural value chain development in West, Central and Southern Africa. She is familiar with USAID guidelines for gender integration in agricultural programs, and has provided technical assistance to USAID agricultural programs. She recently conducted gender analysis of agricultural value chains (Malawi, Mali, Chad, and Ghana) to inform the design of value chain interventions that will improve food systems outcome, reduce gender inequalities and empower women.
Research and Outreach Interests
Food consumption dynamics, implications for food and nutrition security and agricultural market development.
Qualitative impact assessment of agriculture and nutrition programs
Linking smallholder farmers in different value chains to markets
Gender, assets, intra-household decision-making, implications for food, nutrition and income security
Gender analysis of agricultural value chains, and gender assessment of agricultural programs
Gender dimensions of food systems challenges and implications for innovations
Student Mentoring
Capacity building (for GCFSI research faculty and innovation grant recipients) to ensure gender integration into the Center's programming efforts in order to improve on the applicability of innovative solutions to complex food system problems
Technical advice to the BHEARD program in implementing a gender sensitive approach in building scientific capacity (human and institutional) in agricultural research and development in the (Feed The Future) countries of Uganda, Ghana, Mozambique, Mali and Bangladesh.
Teaching Experience
Guest lecture in Animal Science 480 (Spring, 2015): Emerging Issues and Sustainability in International Agriculture. "Understanding the role of gender in international agriculture development". 04/13/2015
Guest lecture in FW 858: Gender and Environment. Michigan State University. Lecture topic: Gender, Poverty and Food Security. 2013
Graduate Teaching Assistant. Michigan State University. 2007. Course title: Food Industry Management (FIM 415).
Trainer/Facilitator with INSER-Development Consultancy Firm in Partnership with the Ministry of Youth Development. 2003. Duties included capacity building for unemployed graduates to help them identify and pursue suitable career objectives.
Tags: fsp malawi people, msu