Neal Fortin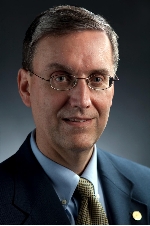 fortinne@anr.msu.edu
Telephone: 517-353-3416

Director & Professor
---
Location:
Anthony Hall, 474 S Shaw Ln, Rm 3383, MSU, East Lansing, MI 48824
Neal Fortin is professor and director of the Institute for Food Laws & Regulations at Michigan State University. Mr. Fortin is also an affiliate professor of law at the Michigan State University College of Law. Mr. Fortin teaches the courses United States Food Law, International Food Law, Codex Alimentarius, Food and Drug Law, and Nutrition Law and Policy. Previously, Mr. Fortin worked for the Michigan Department of Agriculture where he was the primary drafter of the Michigan Food Law of 2000 and manager of the food service regulatory program. As a practicing attorney, Mr. Fortin concentrated in food law representing food companies. He is a prolific author and speaker. His textbook, Food Regulation: Law, Science, Policy, and Practice, is available from Wiley & Sons. He is a graduate from Michigan State University and the University of Michigan.
Neal Fortin was the 2009 recipient of a Michigan State University Distinguished Faculty Award for his teaching in food safety. He serves on the dietary supplement committee of the Food and Drug Law Institute. He is past President of the North Central Association of Food & Drug Officials and past President of the Great Lakes Conference on Food Protection. He served as a Commissioner for the Michigan Local Public Health Accreditation Program, the Advisory Council of the Michigan Community Health Leadership Institute, and the NSF Council of Public Health Consultants.