Rebecca Cain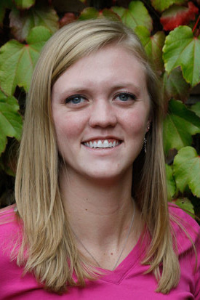 ---
Location:
17 Natural Resources
Major Advisor: William Porter
Hometown: Lexington, SC
Biography: Rebecca received her B.S. from Clemson University in Clemson, SC, in December 2011. She then went on to receive a Master's of Earth & Environmental Resources Management (M.E.E.R.M) degree from the University of South Carolina, in May 2014. Her thesis topic focused on statistical analyses of white-tailed deer harvest data collected from various southeastern states in an attempt to better understand how different management strategies impact annual harvest of the species. She has successfully completed the Quality Deer Management's Deer Steward I & II certification courses. Rebecca has also completed the Boone and Crockett Official Measurer Training Course. Her research focuses on using trophy white-tailed deer harvest data to expose possible explanations for pattern in trophy harvest occurrences that are seen in the historical dataset. Over the course of her project, she will be working closely with both the Michigan Department of Natural Resources and the Boone and Crockett Club.
Affiliated Pages: Boone and Crockett Quantitative Wildlife Center