Samantha Stanton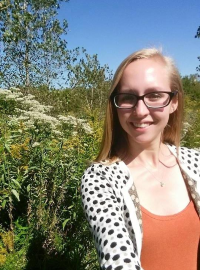 ---
Location:
13 Natural Resources
Major Advisor: Daniel Hayes
Biography: Samantha graduated with a B.S. in Fisheries and Wildlife from Michigan State University in 2015. During her time as an undergraduate, she worked as a naturalist at the Fenner Nature Center in Lansing, MI. Additionally, she was the program director and lead instructor for a kayak and canoe livery in Ann Arbor, MI where she taught people of all ages basic paddling skills. Her love of the outdoors began when she was young and has only grown throughout the years. This passion has lead her to continue her education at MSU. Currently, she is enrolled as a Master's student studying under Dr. Dan Hayes. Her project is looking at population density and spread of New Zealand Mudsnails throughout Michigan rivers.