Brent M. Simpson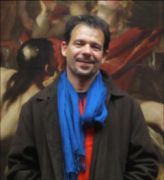 Department of Agricultural, Food, and Resource Economics
Former Associate Professor, International Development
MSU/AFRE Faculty 2003 - 2014
FAO Rome, Italy
Degree:
Ph.D., Michigan State University
M.S., Michigan State University
B.S., Colorado State University
---
Bio-Info
Brent Simpson's international career began as an aquaculture extension agent with the Peace Corps in the D.R.C. (Zaire, 1984-1986). He joined MSU in 2003, initially serving as the Assistant Director of the Center for Global Change and Earth Observations, and later in the Institute of International Agriculture and CANR Dean's Office leading and supporting development of international initiatives of the college.
Prior to joining MSU, he worked as an independent consultant, served as Senior Scientist and Program Leader for Technology Transfer and Systems Development with the Africa Rice Center, Cote d'Ivoire, and as Lecturer and Convener of the Rural Policy and Project Planning Program, Institute of Social Studies, The Netherlands.
He continues to collaborate with research centers of the Consultative Group on International Agricultural Research and provides advisory services to the Food and Agriculture Organization of the U.N., the Millennium Challenge Corporation, the U.S. Agency for International Development, the World Bank, the WWF among others. He has worked in over 20 countries, primarily in sub-Saharan Africa. He worked at a Senior Natural Resource Management Officer, Food and Agriculture Organization of the United Nations, Investment Center. November 2016
Professional Interests
Agricultural adaptation to climate change, mitigation through small-holder carbon sequestration efforts, and development of biofuel systems
Evolution of agricultural systems and the transfer, dissemination and adaptation of technical and social innovations
Capacity-building of farmer organizations and market integration
Pubs Online
Notable Docs/Pres
Pocket Guide 1: Extension Practice for Agricultural Adaptation. 2016. By Brent M. Simpson. Published by Catholic Relief Services.
Farmer-to-Farmer Extension: Issues in Planning and Implementation. 2015. by Brent M. Simpson, Steven Franzel, Ann Degrande, Godfrey Kundhlande, Sygnola Tsafack. MEAS Technical Note.
Planning for Scale: Using what we know about human behavior in the diffusion of agricultural innovation and the role or agricultural extension. 2015. By Dr. Brent M. Simpson. MEAS Technical Note.
Agricultural Adaptation to Climate Change in The Sahel Profiles of Agricultural Management Practices. 2014. Mukesh Ray and Brent M. Simpson, Michigan State University, Department of Agriculture, Food, and Resource Economics.
Agriculture Extension and Advisory Services under the New Normal of Climate Change. USAID Presentation. 2013. By Brent M. Simpson, Michigan State University and Gaye Burpee, Catholic Relief Services.
Ag Sector Council | Brent M. Simpson | Climate Change and Agricultural Extension. You tube presentation. 2013.
"Investigation of the fate and concentration of Phorbol Ester in co-products and wastes from bio-diesel processing of Jatropha curcas and the detoxification of Jatropha seedcake," by S. Masten, B. Simpson, S. Hengemuehle, P. Pati, A. Alpatova, and M. Yokoyama (under review).
"Whole-Farm Agroforestry Carbon Financial Calculator Toolkit (excel) and Guidebook," B. Simpson and J. Allwardt, The World Agroforestry Center, July 2011.
"Climate Change, Land Use, Agriculture and the Emerging Bioeconomy," by D. Skole and B. Simpson, in Graedel, T. and E. van der Voet (eds.), 2009, Linkages of Sustainability. Cambridge, MA: MIT Press.
"The Transfer and Dissemination of Agricultural Technologies: Issues, Lessons and Opportunities," African Technology Development Forum Journal Vol. 3(1):10-17, 2006.
"Farmer Field Schools and the Future of Agricultural Extension in Africa," by B. Simpson and M. Owens. Journal of International Agricultural and Extension Education Vol.9(2):29-36, 2002.
"Adoption et Adaptation de Techniques Agricoles Innovantes dans le Sud-Ouest de Mali." Autrepart (Cahiers des Sciences Humaines Nouvelle Serie) 15:5-27, 2000.
The Roots of Change: Human behaviour and agricultural evolution in Mali. Studies in Indigenous Knowledge and Development. London: Intermediate Technology Publications, 1999.
Projects
Prior Projects
Modernizing Extension and Advisory Services, Project Deputy Director, funded by USAID/Washington
Education and Research in Agriculture, MSU Coordinator, funded by USAID/Senegal
Projet Croissance Economique, MSU Director, funded by USAID/Senegal