Steven Farha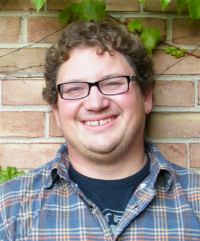 ---
Location:
Off Campus
---
Department of Fisheries and Wildlife

---
Major Advisor: Charles Krueger
Biography: Steve is bananas. Bananas for science and fish. In his sixth year as a Fisheries Technician with the USGS – Great Lakes Science Center in the Deep Water Research program, that seems to fit nicely. Steve was proud to join the Fisheries and Wildlife Department at MSU as a master's student under the guidance of Dr. Charles Krueger and Dr. William Taylor in the fall of 2014. His graduate studies are focused in fisheries science and management with a thesis exploring spawning habitat selection in stocked and wild (F1) lake trout on the south shore of Drummond Island in northern Lake Huron. When Steve's not in, on, or under water, he is usually trying his best to get lost in the woods with his dog, or cooking up a feast of whatever he and "Ludo" found. He currently lives near Black Lake in Northern Michigan, and will be commuting to campus beginning in the spring 2015 semester. Steve is an avid question-asker, indiscriminate side-sleeper, and life-long learner who is eagerly looking forward to joining the MSU FW team. FISH ON!