Susanna Maingi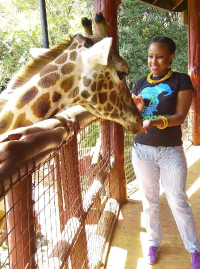 ---
Location:
13 Natural Resources
Major Advisor: Robert Montgomery
Biography: Susanna is a Kenyan ecologist and a passionate leader for wildlife and the environment. She graduated with a B.S. degree in Biology from the Catholic University of Eastern Africa. Since then, she has worked with several top wildlife conservation NGOs in various parts of Kenya. She is a global ambassador and advocate for endangered flora and fauna, particularly in Africa. By working with wildlife campaigns such as the Global March for Elephants and Rhinos and Hands Off Our Elephants, she provided social education and public awareness via community-based and online outreach formats. She also coordinates Wildlife Warriors Kenya, a youth volunteer program for wildlife conservation events, tourism, and outdoor expeditions. She strives to help Africa better protect, preserve, and sustainably manage its wildlife, environment, and natural resources for future generations. Her research interests revolve around human-wildlife conflict, international wildlife crime, and the rising challenge that is conservation ethics in a developing world. She is also committed to increasing opportunities for women in STEM disciplines.