Suzanne Thiem
Associate Professor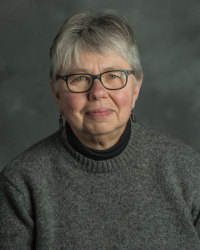 smthiem@msu.edu
Telephone: 517-432-1713

---
Location:
Giltner Hall
293 Farm Lane Room 303
East Lansing, MI 48824
---
College of Natural Science
Department of Entomology

---
Bio
Studies on baculovirus interactions with their host insects, including the molecular mechanisms that determine virus host range and host responses to infection, are expected to reveal basic strategies and mechanisms used by insects to avoid infection by viruses. This knowledge will provide insights that will make it possible to design new tools and strategies for controlling insects and insect-borne disease in agriculture, forestry, and public health. Research into baculovirus biotechnology, in particular increasing capability for membrane protein expression will facilitate structural studies for human and animal drug development and the design of safer chemical insecticides targeted to insect-specific receptors and ion channels. If efforts to develop a genetic system for Wolbachia are successful, it will make it possible to study molecular and genetic basis of the phenomenon of cytoplasmic incompatibility (CI) and potentially make it possible to harness this gene drive mechanism to improve methods for controlling vector borne diseases.
Current assignment: Teaching 35% | Research 35% | Administration 30%
Program Description
Teaching
Integrated Studies in Biology (ISB201) taught every spring to approximately 180 students. Insect Physiology and Molecular Biology (ENT851), formerly Molecular Entomology, taught every other year. Occasionally help teach the undergraduate Virology course (MMG 413) or give a few guest lectures, and give a lecture or two for the graduate virology course (MMG 813). Fall and Spring Semesters co-moderate the BioMolecular Science Research Forum.
Research
I study the genetics and molecular mechanisms of baculovirus infection of insects and insect cells and the use of baculoviruses as gene expression vectors in biotechnology. Of particular interest is how baculovirus host range is determined at the molecular level. Recently I've initiated studies on how to genetically manipulate the obligate intercellular bacterial endosymbiant, Wolbachia, in mosquito cells.
Concentrations
Insect/microbe interactions
Baculovirus virus host range and pathogenesis
Baculovirus biotechnology
Wolbachia genetics
Professional Experience
1997-Present - Associate Professor, Department of Entomology, Michigan State University
1991-1997 - Assistant Professor, Department of Entomology, Rutgers University
1989-1991 - Research Associate, Department of Microbiology, Michigan State University
1986-1988 - Graduate Research Assistant, Department of Entomology and Genetics, University of Georgia
1983-1986 - Graduate Research Assistant, Department of Biochemistry and Microbiology, University of Idaho
1982-1983 - Graduate Research Assistant, Department of Pharmacology, Virginia Commonwealth University
Selected Publications
Salem T. Z., Allam W. R., Thiem S. M. (2014) Verifying the reliability of selected genes for normalization in Q PCR experiments of Spodoptera frugiperda cells during AcMNPV infection. PloSOne 10.1371/journal.pone.0108516. Impact Factor 3.534
Salem T. Z., Zhang F., and Thiem S. M. (2013). Reduced expression of Autographa californica nucleopolyhedrovirus ORF34, an essential gene, enhances heterologous gene expression. Virology 435: 225-238 DOI 10.1016/j.virol.2012.10.022 Impact Factor 3.351
Salem T. Z., Zhang F., Xie Y., and Thiem S. M. (2011). Comprehensive analysis of host gene expression in Autographa californica nucleopolyhedrovirus-infected Spodoptera frugiperda cells. Virology 412: 167-178. doi:10.1016/j.virol.2011.01.006 Impact Factor 3.351
Bergeron S. E., Zhu, M., Thiem S., Friderici K., and Rubenstein P. A. (2010) Ion-dependent polymerization differences between mammalian b- and g- nonmuscle actin isoforms. J. Biol. Chem. 285: 16087-16095. Impact Factor 4.8
McNeil J., Cox-Foster D., Gardner M., Slavicek J., Thiem S., Hoover K. (2010) Pathogenesis of Lymantria dispar multiple nucleopolyhedrovirus (LdMNPV) in L. dispar and mechanisms of developmental resistance, J. Gen. Virol., 91: 1590-1600. Impact Factor 3.363
Zhang F., and Thiem S. M. (2010) The Trichoplusia ni cell line MSU-TnT4 does not harbor a latent nodavirus. In Vitro Cell. Dev. Biol- Anim., 46:1–6. Impact Factor 1.312
Thiem S. M., and Cheng X.-W. (2009) Baculovirus host-range. Virologica Sinica, 24, 436-457.
Thiem S. M. (2009) Baculovirus genes affecting host function. In Vitro Cell. Dev. Biol.- Anim., 45 (3-4): 111-126. Impact Factor 1.312
Yang Z. N., Xu H. J., Thiem S. M., Xu Y. P., Ge J. Q., Tang X. D., Tian C. H., and Zhang C. X. (2009) Bombyx mori nucleopolyhedrovirus ORF9 is a gene involved in the budded virus production and infectivity. J. Gen. Virol., 90:162-169.
Zhang F.,Manzan M. A., Peplinski H. L., and Thiem, S. M. (2008) A New Trichoplusia ni cell line for membrane protein expression using a baculovirus expression vector system. In Vitro Cell. Dev. Biol- Anim. 44:214–223.