Megan Thompson
Farm to Institution Data Manager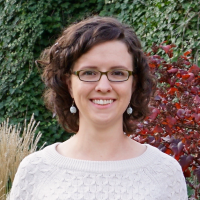 thom1306@anr.msu.edu
Telephone: 517-432-0307

---
Center for Regional Food Systems

---
Topic Areas:
Michigan Farm to Institution Network
Megan works to build and support farm to institution programs statewide through the Michigan Farm to Institution Network. She is working to measure and track institutional buying of Michigan-grown foods through the Cultivate Michigan local purchasing campaign, for which she manages data collection and analysis. She has a BA in Sociology and a certificate in Environmental Studies from Princeton University, and focused her studies on issues of food access and sustainable agriculture.

Megan moved to Michigan from North Carolina, where she worked for several years researching high school reforms. She served as an AmeriCorps member with a neighborhood center & farmers market in Lansing before joining the Center in November 2014.