Tyler Firkus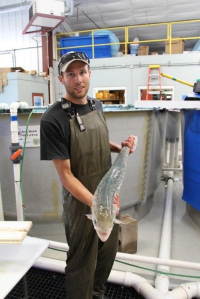 ---
Location:
13 Natural Resources
Major Advisor: Cheryl Murphy
Biography: Tyler earned his B.S. in biology from the University of St. Thomas, where he worked on a variety of aquatic toxicology projects. After his B.S., he moved to the University of Wyoming to pursue his M.S. in Zoology and Physiology, co-advised by Dr. Frank Rahel and Dr. Harold Bergman. There, he assessed the effects of warmed winter water temperatures on native fish reproduction, and its application to water temperature standards. He is currently working on a Ph.D. with Dr. Cheryl Murphy assessing the effects of sub-lethal Sea Lamprey parasitism on two morphotypes of Lake Trout.