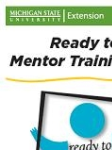 Ready to Go: Mentor Training Toolkit Complete Set (4H1642)
November 13, 2015
In 2009, while training staff to train mentors, we realized Michigan State University Extension lacked existing processes to help new mentoring staff and AmeriCorps members gain skills and resources for mentor training. Our mentoring curriculum project team completed a literature review of current training materials in mentoring and found a lack of hands-on mentoring training tools. As a result, we created Ready to Go: Mentor Training Toolkit to provide mentoring professionals with a customizable mentor training curriculum, support for using the curriculum and a toolkit to ensure that all mentors in planned youth mentoring programs have access to evidence-based training.
The team studied the latest mentoring research, and based on that research, divided materials into focus areas: cultural competency, communication, youth development, and relationship building and boundaries.
Initially, we targeted Extension professionals with mentoring responsibilities as writers for new activities and module background sections. As the project grew, we recruited partners from other organizations to write activities based on their expertise in areas in which the team identified unmet curriculum needs.
As writers submitted activities and module background sections and we reviewed them internally, we piloted them at professional development trainings throughout 2010 and 2011. We recruited pilot sites through a variety of means, making efforts to engage training groups that used a variety of program models, showed variety in the number of mentors trained at one time and included diverse populations.
As we conducted pilots, project staff members gave activities a final review and sent them to the peer review team for closer critique. Peer reviewers consisted of mentoring and other youth development professionals with contentarea expertise in training topics specific to the activities they reviewed.
We submitted the curriculum for editing and design, and after a final review, we completed and published the curriculum in October 2012. The Youth Development module was slightly modified in 2014.
We hope this curriculum will meet the needs of mentoring professionals and other professionals who train volunteers to work with young people.
Lisa Bottomley Project Director Ready to Go: Mentor Training Toolkit
---
Related Topic Areas
4-H, 4-H Healthy Youth, 4-H Leadership, Citizenship & Service, 4-H Volunteering & Mentoring
---
Authors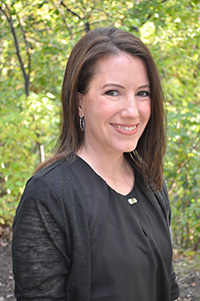 Lisa Bottomley
517-432-7622
lbottoml@msu.edu
Lisa Bottomley