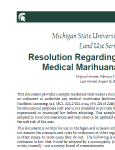 FILE DOWNLOAD
Sample Resolution Regarding Not Allowing Medical Marihuana Facilities
August 17, 2017 - Author: Wendy Walker
A sample resolution that makes a record of a municipality's decision to not adopt an ordinance to authorize any medical marihuana facilities as identified in the Medical Marihuana Facilities Licensing Act, PA 281 or 2016. This document is as an example prepared for educational purposes only and is not intended to provide legal advice. You should consult an attorney experienced in municipal law before adopting. This sample resolution, or any portion of it, must be adapted to local circumstances and may need to be updated as laws change. Use of these materials is at the sole risk of the user.
Word Document: Sample Resolution Regarding the Medical Marihuana Facilities Licensing Act
The materials on this page are provided for educational purposes only. Michigan municipalities should consider this issue in consultation with a diverse group of community stakeholders and a qualified municipal attorney. There is no correct answer that applies to all municipalities. Michigan State University does not endorse or oppose medical marijuana.
---
Related Topic Areas