Show How You're #4HGrown During National 4-H Week
September 21, 2016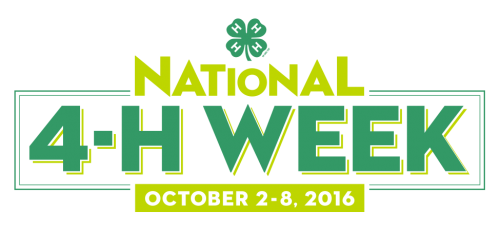 Held annually, National 4-H Week celebrates the accomplishments of millions of young people who are or were part of 4-H. Observed in varying ways across the country, National 4-H Week also helps to raise awareness about the positive impact 4-H has on the lives of 4-H youth, alumni and the communities in which they live.
During the 2016 National 4-H Week, occurring October 2-8, Michigan 4-H is encouraging people everywhere to help spread the word about 4-H by participating in the "4-H Grown" campaign on social media. By simply uploading one of our ready-to-use 4-H profile pictures or cover photos to your social media accounts, you'll help raise awareness of 4-H and encourage others to learn how 4-H can impact their lives too.
Ready to get involved? Whether you're a 4-H member, parent, alum, volunteer, mentor or supporter, you can join the fun!
Just download the profile or cover photo of your choice below and show your passion for 4-H in one or more of the following ways:
Facebook: Change your profile picture and/or cover photo to show your support. Encourage your 4-H friends and family to do the same and consider sharing a photo or story during the week that highlights how 4-H has helped to shape your life. Remember to use the hashtag #4HGrown.
Twitter: Swap out your current image for a #4HGrown profile picture or banner image. Continue to share your 4-H pride by tweeting about your experience or sharing your 4-H pictures. Use #MI4H and #4HGrown together to connect with other members of the Michigan 4-H family who are doing the same thing!
Instagram: Share one or more of our profile pictures and the #4HGrown hashtag to let your followers know you're a member of the 4-H family. Tell your personal 4-H story by posting pictures from your 4-H involvement, using #4HGrown.
We look forward to seeing how 4-H has grown you this National 4-H Week!
#4HGrown Social Media Images
Green Cover Image for Facebook
Green Banner Image for Twitter
Tags: 4-h, academic success, animal science, arts, careers & entrepreneurship, citizenship & service, community service & service learning, environmental & outdoor education, global & cultural education, healthy youth, leadership, life skills, science & engineering, volunteering & mentoring, youth entrepreneurship, youth money management
---
Related Topic Areas
4-H Animal Science, 4-H, 4-H Community Service & Service Learning, 4-H Arts, 4-H Careers & Entrepreneurship, 4-H Environmental & Outdoor Education, 4-H Global & Cultural Education, 4-H Healthy Youth, 4-H Leadership, Citizenship & Service, 4-H Life Skills, 4-H Science & Engineering, 4-H Volunteering & Mentoring, 4-H Youth Entrepreneurship, 4-H Youth Money Management