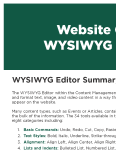 FILE DOWNLOAD
Website CMS WYSIWYG Editor
June 5, 2017
WYSIWYG Editor Summary
The WYSIWYG Editor within the Content Management System (CMS) allows you to enter and format text, image, and video content in a way that resembles how the content will appear on the website.
Many content types, such as Events or Articles, contain a WYSIWYG Editor for entering the bulk of the information. The 34 tools available in the WYSIWYG Editor are broken into eight categories including:
Basic Commands: Undo, Redo, Cut, Copy, Paste, Paste as Text
Text Styles: Bold, Italic, Underline, Strike-through
Alignment: Align Left, Align Center, Align Right, Justify
Lists and Indents: Bulleted List, Numbered List, Increase Indent, Decrease Indent
Text Formatting: Headings/Paragraph, Font Size, Text Color, Clear Formatting
Tables and Characters: Horizontal Line, Tables, Special Characters
Links and Multimedia: Create/Edit Link, Remove Link, Anchor Link, Insert/Edit Image, Insert YouTube Video
Resource Commands: Find/Replace, Spell Check, Source Code, Full Screen.
---
Related Topic Areas
---
Authors
Ali Burck
(517) 884-4912
burck@msu.edu