Apple Mobile Device Setup
The instructions below are for iPhone, iPod Touch and iPad devices.
When configuring your Apple device, please choose from one of the options below, depending on your situation.
Option 1 - Configure Apple Device for the First Time.
Now on your device, inside a web browser and on the ANR Support site, click on the green Setup iPhone button below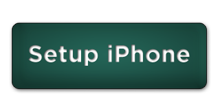 NOTE: DO NOT CLICK on the green Setup iPhone button above unless you are looking at this page on an Apple device (iPhone, iPad or iPod Touch).
Option 2 - Configure Apple Device Manually - for the First Time
Option 3 - Re-Configure Apple Device - Manually
Go to your settings on your iPhone/iPad/iPod Touch and select Mail,Contacts,Calendars
Select your ANR account
Select Account
Make sure the server setting here is - mail.collegemail.msu.edu
Select the Done button
Create a signature that shows on each mail message you send via the iPhone Mail App - Set Up iPhone Email Signature