School Field Trips
Tollgate offers place-based educational opportunities to school groups, families, organizations, and community members in an inquiry-based, experiential educational setting. Visitors gain a deeper understanding of the impact of agricultural sciences on their daily lives. Explore the farm while making important connections to concepts learned in the classroom.
Tollgate programs promote food system awareness through exploring the sustainable, nutritional, and cultural aspects of agriculture. For more information about school or community education programs click here, contact Ellen Koehler or call (248) 347-0269 ext. 227.
Earn Green School points for coming to the farm! For more information, visit Michigan Green Schools .
Please note that we do not offer field trips during summer months. We are engaged with our summer camp program months late June through August.
What to expect with an MSU Extension Tollgate Field Trip:
2 hour field trip

Inquiry-based, hands-on learning

Lunch area available in the outdoor pavilion or historic 19th century barn

Self-guided hikes along trails as option after field trip

Seasonal program based on big driving questions

Collaboration with classroom teachers and group leaders to connect to classroom learning

Scholarships available to allow all to participate
How to prepare for a Tollgate visit:
Contact us to schedule your field trip! See below for details.

Divide your group into 4 (typically our field trips rotate through 4 stations)

Bring bagged lunches to enjoy before or after your program

Dress in layers for the weather - we will be outdoors for the duration of the program

Have name tags for your students.
Our typical field trip:
Arrival 9:45 am

Lunches are placed in barn

Visitors are divided into teacher-assigned groups

Large group welcome and orientation

Program 10 am or 12:30 pm start time

Each group receives itinerary

(4) 25 minute rotations led by educational leader

Wash hands before snack and lunch
Payment: Please pay two weeks before program by check made payable to Michigan State University.
Why checks? Checks:
Allow number of staff to be tailored to the group size for high quality experiential programming

Help record payment and ensure confirmed participation
A Year of Field Trips
Contact 248-347-0269 X227
koehle43@anr.msu.edu
Fall Harvest Ecology
October
$12/per participant
The Harvest Farm Ecology Program is designed to allow participants to experience agriculture and explore the sustainability of the farm environment. We explore the essential question of how animals and plants prepare for winter in this harvest-themed learning adventure. This 2-hour inquiry-based program is interactive and takes students on an exciting tour of the farm visiting the plants and resident animals on the farm.
Wagon ride to pick a pumpkin at the patch

Visit the orchard and explore the apple life cycle and varieties

Press apples into cider and enjoy a snack of cider and doughnuts

Engage with fall farm animals and learn how they prepare for winter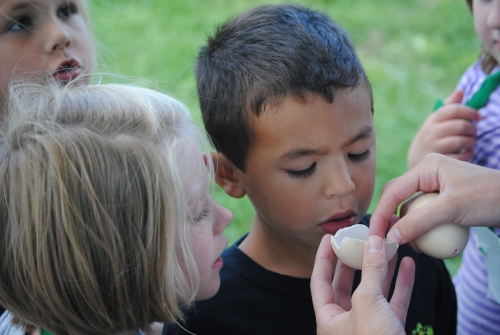 Maple Sugaring
late February through March
$10/participant
Bundle up and join us in the sugar bush during this hands-on program that investigates one of nature's sweetest treats. From tapping to tools to tasting, discover one of Michigan's best treasures.This is one of our most popular programs and our schedule is filling fast!
Tools through time exploration

Wagon ride to the sugar bush to tap a maple

Visit the operational sugar shack

Taste maple syrup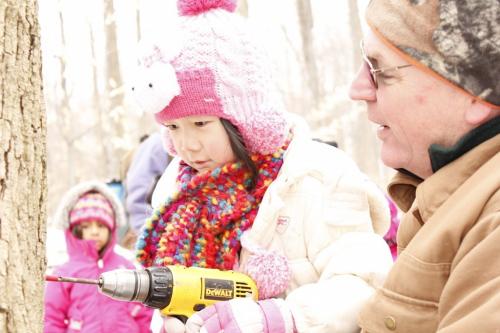 Spring into Farming Field Trips
April and May
$10/ student

Baby Animals: Pre-K
Meet farm animals

Experience the farm through discovery-based sensory learning

Explore animal coverings, purposes, life cycles, vocabulary
Nutrient Trail: Grades K-6
Choose 4 from the following: garden, pond study, chickens and embryology, goats, compost/vermi-compost, wagon

Experience the transfer of matter and energy around the farm by following "the nutrient trail"!
Genetics: Grades 7+
Punnett Squares, breeding, and traits with multiple species to explore!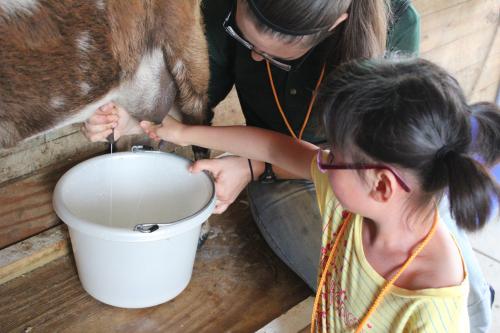 Sheep to Sweater
Spring
$10/participant
Do "ewe" know how sheep stay cool in the summer with their wool coats? In this hands-on program, students will unravel the mysteries of wool yarn by stepping into the process: sheep, card, and drop spindle! Learn how sheep have influenced much more than your winter scarfs and socks. Each participant takes home a product.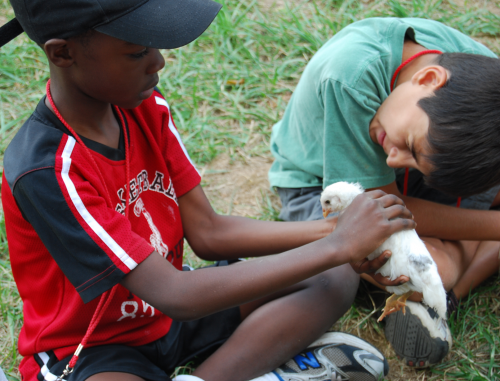 Financial Aid for Educational Programs
Tollgate strives to provide opportunities for youth and adults of all income levels and welcomes a broad cross-section of participants to experience farm-based experiential learning. The goal of the Tollgate financial aid process is to provide as many youth and adults as possible with the opportunity to enrich learning and broaden their experiences. Funding is limited and applications are reviewed based on the needs of the participants, potential impact on their learning, cost of the program, and potential for meaningful collaboration.
To learn more about how to apply for financial aid, visit the Tollgate financial aid webpage.
Save
Save
Save
Save
Save