Undergraduate Research
Why undergraduate research?
In the CANR, undergraduate research allows you to become more actively engaged in your education through intellectual inquiry and practical learning. Working closely with a faculty mentor, you'll increase your understanding of your field, gain real-world experience and prepare for your future career.
Undergraduate research offers you an opportunity to broaden your employment opportunities, strengthen your application to graduate school or simply get a clearer view of your career interests and options. You'll work closely with a faculty mentor and graduate students to investigate important issues that interest you. This work will strengthen your research, analytical, writing and speaking skills, and it could result in a journal article or presentation at a national meeting.
Apply for funding
Participants may be eligible for research grants of up to $2,000 per semester. The majority of the grant (80 percent) is awarded as a scholarship, hourly wage, conference travel or stipend. If you usually work during the semester, these funds could permit you to devote quality time to conducting research without having to worry about working another job.
Who is eligible?
Please note: These funds are for students whose primary major is in the College of Agriculture and Natural resources only. Secondary majors, minors and coordinate majors are not eligible for this program.
CANR students with a minimum 2.5 GPA
Highly motivated, inquisitive, committed and self-disciplined students with a drive to succeed
All class levels. Seniors in their last semester of study are welcome to participate but are not eligible for research support grants
A faculty mentor is required
Application dates
Sept. 19 until Oct. 21, 2016 for Spring 2017
International Research
Research projects can be carried out anywhere in the world! Find out more.
Getting started
To get started on undergraduate research, contact a faculty member or contact Dr. Kelly Millenbah, at millenba@msu.edu or Susan DeRosa, special projects, at derosa@msu.edu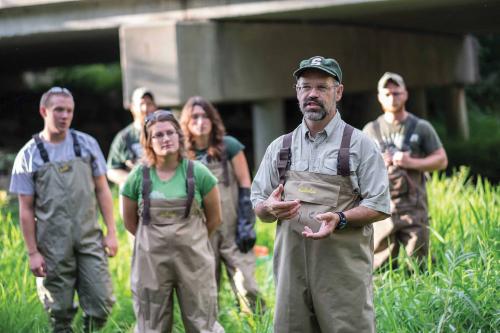 College of Agriculture and Natural Resources CANR) students may work with any faculty member at MSU. Choose a faculty member in one of three ways:
Contact a faculty member directly to ask about his or her current research or to discuss working with you on a research idea that interests you. Many MSU faculty members are happy to mentor undergraduate students.
Choose from a list of research project and faculty research mentors on the MSU Venture website.
Contact Dr. Kelly Millenbah, associate dean for CANR, millenba@msu.edu.