Staff Information & Forms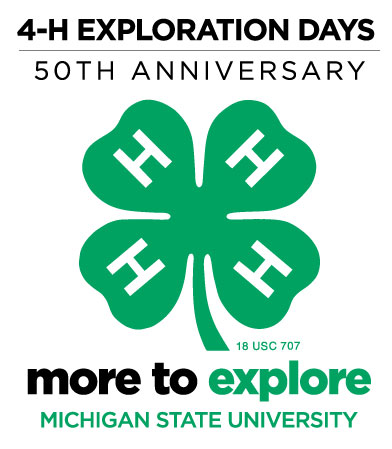 The following information will be useful to MSU Extension county staff and others helping to prepare 4-H Exploration Days paperwork.
Before Event
During Event
After the Event
Promotion
Fliers and ads are available to counties for promotional use. Fliers can be distributed at meetings. Ads are inserted into newsletters.
A 4-H Exploration Days DVD was produced for distribution to all counties in early 2015. It contains a promotional segment (for use January through early May) and an orientation segment (for use in June).
A promotional pre-event news release is also available.
Requesting Registration Book Quantity & Delivery Method
The quantity of registration books needed by each county must be determined by mid-January when the book goes out on bid. Counties must indicate both their quantity and delivery method using the Registration Book County Quantity and Delivery Method Request Form.
Scholarships
Volunteer session instructors, session helpers and county conference assistants (CCAs) attend free.
MSU Extension staff serving as instructors or CCAs also attend free.
MSU Extension staff serving as session helpers receive an $80 scholarship.
Youth Participant Financial Hardship & New Audience Recruitment Partial Scholarships
A limited number of $40 financial hardship and new audience recruitment scholarships are available through the event budget for full-time youth participants. Allocations are granted to counties in February.
Request Requirements
To receive a scholarship allocation, county staff must submit a request to the 4-H Exploration Days coordinator by mid-February. (See Exploration Days Email #1 for the specific date.) There is no form. The request can be made by email or hard copy, should be no longer than one page and must include:
The number of scholarships requested, by whom and for which county.
The situation or rationale for the request (i.e., financial need or new audience recruitment efforts).
View an example of a scholarship request letter here.
Allocation Process
Scholarship allocations will be decided based on:
The rational given in the request letter.
The number of scholarships allocated and used by the county each of the past three years.*
The county attendance at Exploration Days in the past three years.*
The availability of scholarship funds.
*There's no need for county staff to look this up and include it in the scholarship request. These records are maintained at the State CYI/4-H office.
Scholarship Notification
The person who made the county's request will receive email notification of the number of scholarships being granted along with a scholarship recipient form to complete and return to the State CYI/4-H office a week after the event registration deadline.
Additional Information to Note
Scholarship awards will reduce each recipient's final payment balance, not their deposit.
Scholarships cannot be applied to cancellation or no show fees.
Scholarships are not transferable if a scholarship recipient is unable to attend.
Whenever possible, counties are urged to secure local scholarships to support participant attendance.
Registration & Payment Instructions
Counties register their participants using a web-based registration program. To log into the system, please visit the Session Information page. An email confirmation will be sent back to the county for every registration received. More details are provided in the Registration Data Entry & Confirmation Instructions.
To clarify the fee payment process, county staff should review Tools and Directions for Tracking Fee Payments. The Participant Payment Tracking Spreadsheet is a sample template of what will be available to each county on the registration web site in late May.
Fee Deadlines, Cancellations and Refunds
See the Fees Summary for all fees, scholarship credits, payment and cancellation deadlines and refund information.
Buddy System for Participants with Disabilities and Other Special Needs
A buddy system is utilized for youth who have physical, functional or learning disabilities. Some participants with mild disabilities may be able to function on their own without a buddy. This is a decision that each county MSU Extension staff must make with the family based on the situation.
Implementing the buddy system for participants with disabilities and other special needs:
Disabled or other special needs participants, who need extra support or assistance to have a positive learning experience, must be accompanied by a same-sex adult or older teen "buddy" who is able to address those special needs.
The buddy must accompany the special needs participant to the event, attend the same session and serve as his or her roommate. They will stay together during the entire conference (meals, sessions, free time activities, etc.).
The county must also download and complete the 4-H Exploration Days Buddy System for Participants with Disabilities form and indicate who the buddy will be and the disability type and special needs as specifically as possible. Mobility disabilities must be explained so that housing assignments can be based on hall accessibility needs.
County Forms Due Early- to Mid-May to the State CYI/4-H Office
A number of 4-H Exploration Days forms are needed before housing assignments are made:
Housing Assignments
Three main steps are involved in the process of making housing reservations and assignments:
Each county completes a County Delegation House Count Form and returns it to the State CYI/4-H office. Counties sharing CCAs must indicate this on the form to ensure the counties are housed together. All forms must be in before any housing assignments can be made! Please do not be late submitting your completed form!
When all county forms are received, the event HQ staff assigns each county blocks of space (one for males, one for females) within a residence hall based on the house count totals and sends counties their housing assignment information (complete with floor plans) by late May.
County 4-H staff make specific room assignments to each member of the delegation. Allowing youth to sign up in pairs for roommates (or quads for Akers only) can be done at the county orientation meeting held in early June, or can be handled by whatever process works best in each county.
How to Read Your Housing Floor Plan
Rooms in all residence halls except Akers are "suite style" where every two 2-person rooms share a bathroom that is in the middle of the suite. Rooms in Akers are four to a room with their own bathroom.
In general, females are assigned on one side of each hall; males are assigned housing on the other side. Some females, however, will likely be assigned space on top floors of the male housing sides due to many more female participants than male. Your housing assignment correspondence will state which sides house males and which house females. Your county's floor plans will include the name, side and floor of your housing assignments.
If a housing floor plan shows one or more rooms X'ed out, those rooms are not available for 4-H use due to either room damage, renovations, or already being assigned to a residence hall security staff. Security staff are screened residence hall personnel assigned to their rooms for the entire summer and may be either male or female.
If you have a wheelchair user in your delegation, please note that the wheelchair accessible rooms on your floor plan are marked with a "W." Please make sure you assign your wheelchair users to one of these rooms.
Assigning Individuals to Rooms – Very important things to note before you begin:
Create your roommate groupings before beginning your online housing data entry (explained in the next section). Once you've entered a room assignment in the online system, it can only be changed by the event HQ staff because of the way the programming works.
An adult may not room with nor share a bathroom with an unrelated youth. A youth is anyone under 18. A participant that is 18 may room with a chaperone.
Do NOT over assign beyond a room's capacity!
Assign CCAs and chaperones throughout the delegation area.
If a single block of space is listed with more than one county's name (sometimes the case for multi-county housing groups), the counties involved must work together to determine which specific rooms each individual delegation should be assigned to within the multi-county housing assignment.
Counties are responsible for assigning specific rooms to the session helpers and instructors that are part of their delegation and for notifying them of their assignments.
Bed height in all rooms is "standard" bed height (24").
Online Housing Data Entry
Counties complete their housing assignments (from which county housing sheets are generated) through the online registration system at http://web2.canr.msu.edu/explorationdays/login.cfm.
Below are some important things to note BEFORE you begin entering the housing assignments online:
Bed space for each person in the room is designated by a, b, c, or d. The first person assigned to that room will be given bed a, the second will get bed b, etc.
Don't change your mind regarding assignments while doing the data entry. Here's an example of what happens if you assign a room space to someone then move them to a different room assignment:
You put Allison in room 261 – the program automatically assigns her to bed "a."
You put Liz in room 262 – the program automatically assigns her to bed "a."
If you change your mind and switch Liz to room 261 – the program will change her to room 261 but will recognize that she already has a bed assignment of "a" so will keep her in bed "a." This scenario causes both girls to be in bed "a" within room 261 and it will cause problems when the housing data is uploaded from the 4-H Exploration Days system to the residence hall system!
If this sort of data entry error does occur, you will not be able to correct it on your end. You will need to email the event HQ staff (an intern will be designated as the housing "point person") and request the change to be made by a system administrator.
When you're ready to begin the online housing assignment entry, follow these directions:
Click on the green box "Housing Assignments." Then click on each participant's name to assign a room within your county's male and female housing assignment block. The steps are:
click on the name
enter the room number
update the room assignment.
Repeat these steps for each person in your delegation until all who need housing are assigned a room and bed space.
Your housing assignment information must be completed and ready for the event HQ staff use by the date indicated via email. After all counties have entered their online housing assignments, the event HQ staff exports the housing data into the residence halls' housing system. The 4-H Exploration Days housing information is due to the residence halls in a single batch report 7-10 days before the event. The information generated from the online data will be used at check-in for room key and conference card distribution.
Once room assignments have been made, no changes should occur.
Housing Sheets
After counties have entered their individual room assignments online for all members of the delegation, the individual female and male housing sheets can be printed. From the online registration system at http://web2.canr.msu.edu/explorationdays/login.cfm, click on the green box "Reports."
Click on the report named "Participant Housing Sheet" and you'll have the ready-made forms needed by your CCAs for bed check (and the event HQ staff, Head Conference Assistants staffing each 4-H Information Center and residence hall staff).
Counties should make a copy of each housing sheet (pink paper for females; blue for males is preferred) and provide this to your CCAs for their bed check use. The State CYI/4-H office will make the pink and blue copies needed for HQ, HCAs and residence hall staff.
Room assignment changes should NOT occur after they've been entered into the online system. If an emergency occurs during the conference which warrants a room change, the change must be approved by the county conference assistant and the head conference assistants from your hall's 4-H Information Center. These parties and the residence hall staff must all be involved in making the changes in the multiple needed places.
Pre-Event County Orientation Meeting
All counties should hold a Pre-Event Orientation Meeting between late May and early June. County 4-H staff should provide participants with the date, time and location of the meeting as soon as possible. All participants, along with a parent or guardian, should attend. The purpose of the meeting is to:
introduce chaperones
review rules, expectations and procedures
determine roommate pairings
collect fee balances - be sure to use the Participant Payment Tracking Spreadsheet from the online Exploration Days Registration System. The use of this spreadsheet is explained in the Registration Entry by Counties & Payment Remittance section of this web site.
collect remaining forms and information needed (See sections: Identification Portfolios, Whereabouts Schedules, and Permission Forms Needed by the State CYI/4-H Office)
finalize any other details such as group transportation
The following meeting resources are available:
Identification Portfolios
Counties will create identification portfolios for their delegation. A Personal Data Sheet with a photo will be created for each youth and adult participant. These sheets will help county conference assistants (CCAs) and chaperones put names and faces together, put all pertinent information in one place and assist with identification and tracking if someone is missing. CCAs or county staff will be the keepers of the County Identification Portfolios.
Whereabouts Schedules
Youth and their assigned adult chaperones need to keep each other informed of where they'll be, when and with whom. All chaperones will post two schedules on their residence hall room doors. One will show the chaperone's schedule. The other will be for youth to sign in and out of the recreational activities they attend without a chaperone. The Participants' Whereabouts Schedule form and the CCA/Chaperone/Staff Whereabouts Schedule form are available for downloading.
Permission Forms Needed by the State 4-H Office
For those in 4-H Online:
Submit the Authorization Forms which are found on page 23 of your Exploration Days registration book.
Ensure that all signatures are completed.
Because 4-H Online does not have an overnight housing policy for youth, parents/guardians must still sign. This is also applicable to event rules.
For those who are NOT enrolled in 4HOnline:

Submit the completed Authorization Forms in alphabetical order. Please separate youth and adult forms in two separate stacks. The forms that should be submitted are:
Youth and Adult Code of Conduct/Media-Medical Release Form
2. The 3-section Authorization Forms on page 23 of the Exploration Days registration book covering Event Rules, Parent/Guardian Consent, and 4-H Overnight Housing Permission. Please be aware that that if a parent/guardian does not sign the overnight housing section, they will not be allowed to attend.
How to submit forms:
Mail to campus (MSUE, 446 West Circle Drive #160, East Lansing MI 48824)
Fax to 517-353-4846


Activity Guide
The Activity Guide includes a campus map centerfold and lists where and when all sessions and other activities are being held during the event. Each participant receives a copy at check-in.
Inside the Activity Guide, you will find instructions on how to download the activity guide app to use while on campus!
Check-In
Check-In Process
1. From the 4-H check-in table, participants receive:
Activity guide
T-shirt
Name badge
2. At the residence hall check-in station, participants get:
Room key
Name badge holder and lanyard
Conference card (Conference cards are coded to allow participants entry to their housing floors, elevators and cafeteria. Participants will not be able to enter their cafeteria without their conference card and it will allow entry only once for each meal.)
Residence halls will already have pillows and linen packets (2 sheets, pillowcase and 2 towels) placed in each room. Blankets are also available from the residence halls if cool weather conditions occur during the event. Blanket distribution is determined by each residence hall. Some may provide them in each room before participants arrive. Others may choose to provide blankets upon request from the reception desk.
Each person should check-in themselves. Accepting keys and conference cards for those not attending will result in the full fee instead of the reduced cancellation fee.
Standard Wednesday Arrival
Check-in is from 8-11 a.m. in the residence hall on the side to which you are assigned – East, West, North or South.
Tuesday Early Arrival
Arriving Tuesday evening is an option for delegations traveling long distances. Early youth must have chaperones of the same gender on their housing floor. All Tuesday early arrivals must be registered by their county as early arrivals. There is an added cost for the early arrival registration package which covers Tuesday lodging and Wednesday breakfast. Early arrival breakfast is served in Akers Hall. Tuesday dinner is not provided.
All Tuesday early arrival check-in begins in West Akers Hall outside General Headquarters. From there, participants proceed to their assigned residence hall to complete the check in process.
The check-in schedule for Tuesday early arrivals is:
4-5 p.m. Groups that bicycle to the event
5-9 p.m. All other early arrivals
Late Arrival Information
Late arrivals begin their check-in process at their assigned residence hall's 4-H Information Center. From there, they proceed to the hall reception desk on the side of the hall to which they are assigned. The location of each hall's 4-H Information Center is listed in the activity guide.
4-H Information Centers
A 4-H Information Center will be staffed within each residence hall from 7 a.m. to midnight. Each 4-H Information Center is operated by a male and female team of head conference assistants with the help of all county conference assistants within the residence hall. 4-H Information Center locations and telephone numbers are listed in the Activity Guide.
The functions of the 4-H Information Centers are:
Housing questions/problems.
Provide location directions.
Relays via a county message baggie system. Plastic baggies are labeled with the names of each county assigned to the respective residence hall. As messages are received, they are written down and inserted into the county's baggie. CCAs and field staff should frequently check for messages. The see-through baggies make it easy to tell when someone from a county has a message. (If a message is urgent, effort is made to track down the participant immediately.)
Provide basic first-aid supplies.
Collect and disperse lost and found items.
Replace lost name badges, meal cards or Activity Guides.
Create a "user friendly" atmosphere for participants.
Distribute pencils and paper to participants upon request.
Assist with questions.
At times the Information Centers are extremely busy; at other times there may be little to do for the Head CAs and CCAs staffing the centers. The activity level of the Information Centers depends greatly on the number of questions and problems that arise.
General Headquarters
General Headquarters is located in the West Akers Hall Lounge. The telephone number is 517-353‑2922. Headquarters is staffed from 7 a.m. to midnight on Wednesday and Thursday, and from 7 a.m. to 2:30 p.m. on Friday. If you need help during the night, contact the West Akers desk receptionist at 517-353-3358. The receptionist will put you in touch with the 4-H Exploration Days program director.
The functions of General Headquarters are:
Relay messages from Headquarters to the 4-H Information Centers.
Early arrival registration.
Session information/problems.
Distribution of session supplies, audiovisual materials and signs.
Distribution of complimentary meal tickets for instructors not receiving honoraria and volunteer award interview selection committee members.
Disciplinary action for severe behavior problems.
Transportation to and/or from the hospital if it's unavailable through a participant's county.
Lost and found items (not hall-specific).
Assist with any and all questions.
At the Event County Meeting
Each county should hold an on-site county delegation meeting after check-in, and before sessions start using the Suggested On-Site County Delegation Meeting Agenda. All participants, chaperones and county staff are expected to be present. The meeting should be chaired by one or both CCAs with assistance from the county staff if possible.
A list of suggested meeting locations will be sent to counties and CCAs in late May – separately to each. The suggested meeting location list is prepared to ensure that all delegations have indoor meeting space available in case of inclement weather. If the weather is good (and hopefully it will be!) the CCA and county staff may choose to have the delegation meet outside.
It is a CCA's responsibility to post notices on the delegation's housing floor to inform participants of the meeting time and location. CCAs will be provided with paper, markers and tape in the CCA packet they pick up from their hall 4-H Information Center upon arrival.
Youth/Chaperone Meetings
In addition to the total county delegation meeting held soon after arrival, there will be five smaller youth/chaperone meetings held throughout the event. Youth/chaperone huddles provide a chance for each chaperone and his or her assigned youth to check in after sessions, before and after evening activities, before bedtime, and just before check out and departure. Counties may adjust the times of the meetings to best fit their needs but all meetings should end by 11:15 p.m. each night.
Meetings can be held in the chaperone's room or some other location designated by the chaperone. The official meeting times are:
Wednesday and Thursday at 4:45 - 5 p.m.
Wednesday and Thursday at 11 - 11:15 p.m.
Friday at 11:15 - 11:30 a.m.
Recommended Agenda
Youth share how they spent their free time.
Process the experiences.
Discuss how these experiences can be shared or taught at the local level.
Review upcoming activities.
Answer questions.
Review evaluation, check-out and departure procedures (do this Thursday evening only).
It's preferred that participants complete the evaluation on Friday shortly before departure but it can be done Thursday night instead.
Room Check
All county participants are to be (1) in their assigned rooms by 11:15 p.m., and (2) quiet by midnight. Chaperones that have participants who wish to go to bed before 11:15 p.m. may hold their meeting before 11 p.m.
CCAs and county chaperones are responsible for checking the rooms of their participants using the male and female housing sheets. CCAs and county chaperones must account for all county participants each night after curfew, making certain the individuals assigned to each room are in their own rooms and quiet. Participants may not trade rooms once keys have been issued. If an emergency which warrants a room change does occur, the change must be approved by the CCA, and the HCAs must be notified.
Participants who are missing must be located before contacting the hall Information Center with an "all accounted for." If assistance is needed in locating participants not on the floor at curfew, the CCA should contact their county staff person or the HCAs at their 4-H Information Center.
When all participants in the county or multi-county delegation are accounted for, the CCA must notify their 4-H Information Center. This should be done as soon as possible after the 11:15 p.m. curfew.
CCAs should remain on duty on their floor, along with chaperones, until the entire floor is quiet. Adults should remain on the housing floor with their youth until morning.
When all participants in the hall are accounted for, the Information Center relays this information to General Headquarters and the 4-H Information Center closes for the night.
In the morning, participants should not leave their assigned floor any earlier than 6:45 a.m.
Guidelines for Handling Behavior Problems
If behavior problems occur during the event, the following steps should be taken:
If the behavior problem is "minor", CCA and/or county staff should provide warning and if necessary, provide the discipline they feel is appropriate.
If a problem cannot be solved as described above, the advice of the HCAs should be sought. If further counsel is necessary, General Headquarters should be contacted.
The State 4-H staff at General Headquarters recommends that participants be sent home for the following reasons:
- Theft or vandalism
- Drugs, alcohol, sex or violence
- Violation of curfew policy
If it is decided that a participant should be dismissed early, the parents or guardian will be called and expected to arrange for timely pick up and to incur any related expenses. The 4-H member should make the call in the presence of the field staff member and/or CCA. If the 4-H'er is unable to call home, the field staff member should make the call. During the time between when a parent or guardian is notified and he or she arrives on campus with proper identification, the youth will be separated from the program activities and remain under staff supervision. In extreme circumstances, youth may be turned over to local authorities during the wait time before pick up occurs.
See the 4-H Exploration Days Handbook for more information regarding behavior expectations.
Health Care
A Nurse's Station is staffed from 10:30 a.m. Wednesday to 1 p.m. Friday of 4-H Exploration Days. The service is available to participants at no charge. Participants who become ill or injured should notify their county staff, then report to the event nurse. Participant medical treatment authorization forms are kept on file in the Nurse's Station.
If further health care is needed, the nurse will refer the participant to a Lansing area medical facility. (The MSU Olin Health Center will be used during daytime hours for anyone age 14 and up; other further care will be off-campus.) If the need for medical care occurs, a parent or guardian will be contacted first if possible, by the child and the CCA or county staff person.

Transportation should be provided by an adult from the county of the participant needing transportation if at all possible. If the county cannot provide its own hospital transportation, the CCA or field staff should contact General Headquarters for 24 hour emergency transportation. An adult from the county of the participant needing hospital care should accompany the participant even if Headquarters provides the transportation. The cost of hospital treatment will be billed to the participant or parents/guardian of participant. Ambulance service is available but the cost will also be billed to the participant's insurance or family.
The medical treatment authorization form must accompany any participant needing care from the hospital. The nurse will pull the participant's health form from the file and give it to the adult accompanying the participant. This form needs to be returned to the nurse after the hospital visit. Counties may also wish to make copies of their delegation's authorization forms and keep them in their County Identification Portfolio along with the Personal Data Sheets.
Anyone needing life or death ambulance transportation will be taken directly to Sparrow Hospital because it is closest to MSU. If the situation does not permit time to see the event nurse, phone 911 for an ambulance; then notify the county staff or CCA and General Headquarters at 517-353-2922. The health form must be pulled from the Nurse's Station and taken to the hospital.
Insurance Protection - MSU does not carry special accident insurance for participants at 4-H Exploration Days. Counties are urged to provide special coverage for participants during the event. Counties should download and complete the Special Activities Insurance Coverage Form and submit it as a cover sheet to their delegation's Medical Treatment Authorization forms they forward to the State CYI/4-H office.
Medication needs during the conference
Program participants who need to take medication during the event are expected to discretely store and administer their own medication privately. Single serving over-the-counter medications such as Advil, Tylenol, Pepto-Bismol are available for sale in residence hall snack shops.
If a medicine requires refrigeration, this need should be brought to the attention of the 4-H Exploration Days coordinator ASAP after the county 4-H staff make individual room assignments. The county 4-H staff will need to provide the room number and name of the participant so arrangements can be made to place a dorm-sized refrigerator in the room.
Emergencies
Contact Information
The telephone number for the Event General Headquarters is 517-353‑2922. It's listed at the bottom of the conference name badges. Headquarters is located in the West Akers Hall Lounge.
Headquarters is staffed from 7 a.m. to midnight on Wednesday and Thursday and from 7 a.m. to 2:30 p.m. on Friday.
If you need help during the night, contact the West Akers desk receptionist at 517-353-3358. The receptionist will put you in touch with Laura Potter-Niesen, the 4-H Exploration Days program director.
Emergency Procedures
Evacuation procedures and sites are located in the back of the activity guide and housing room doors. CCAs should designate a space for participants to meet in case of evacuation or emergency and let them know where it is during the county meeting.
Green emergency alert phones are on each housing floor. To use, press the 911 button. If this phone is accidently activated by someone they need to tell the 911 operator that it was done accidently so that the 911 response call is cancelled. These phones should only be used in the case of an emergency!
If there is an area emergency alert such as a tornado warning, it will be announced automatically from the phone's speaker.
There are no phones in the housing rooms nor are there pay phones anywhere on campus. (If participants bring cell phones to the conference, they need to use them responsibly.) A long distance phone is available in the event Headquarters for emergency use.
Message Relay System
Most messages during the conference are relayed by inserting notes into a clear baggie labeled with the county name. CCAs and field staff should check their county message baggie frequently at the 4-H Information Center in case they or others from their delegation have a message or are needed by other staff or county participants. If the message is urgent, effort will be made to track down the individual.
Check-Out
End of Conference Check-Out
Check-out time is Friday from 6:15 to 8 a.m.* and 11 a.m. to 1 p.m.
*U.P. counties that want to arrange for their entire delegation to check out early on Friday morning but still eat lunch need to arrange this in advance with the 4-H Exploration Days coordinator. The event coordinator must provide a list of early check out counties to the residence hall staff at least a week before the start of the conference.
1. Participants should do the following when leaving their rooms:
Check drawers, closets, under bed, in shower for personal belongings.
Close all windows, leave blinds open.
Remove sheets and pillowcase from bed and towels from bathroom. Sort and place linen in the appropriate pile or bin in the lobby of your assigned floor.
Fold blanket and leave on bed with the pillow and mattress pad.
Drop garbage bags in compactor on hall floor.
Lock door when leaving room. Be sure all lights and faucets are turned off.
Turn their conference evaluation, room key and card in to their CCA.
2. To properly account for all keys and conference cards*, the following steps must be followed:
A check-out packet will be prepared by the residence hall for each county and should be picked up by CCAs on Thursday evening at their hall 4-H Information Center from the Head CAs.
Using their check-out packet and the updated housing sheet copy provided by the dorm, each CCA collects all keys and conference cards for their delegation. CCAs check off each person's name on the list as they collect their key and card. (Participants do not return keys and cards personally at the hall front desk.)
CCAs then turn in ALL of the county's key and cards in the collection envelope, along with the 4-H housing list, to the hall front desk on the side of the building where their group was housed.
*MSU's fee for lost items is $75 for each key and $10 for each conference card. However, if a key or card missing at check-out is found and returned to the State CYI/4-H Office within a week after the event, the participant will not be billed for the missing items. Counties will receive an email notice if their delegation has any lost keys or cards and be asked to follow up with the participant and remit payment within the next month.
All conference participants must be out of the residence halls by 2 p.m., when the outside doors are locked and 4-H Exploration Days is officially ended.
Early Check-Out
Check out that occurs any time before Friday is handled differently. The early check-out process is:
The early departing participant must turn in their room key, card and linens, accompanied by their CCA, directly to the hall service desk on the side of the building where they were housed. The hall staff should record that all items were returned on a form retained by the hall staff. The Head CAs staffing that dorm's 4-H Information Center should also be informed of the early departure and record it on their copy of the county's housing sheet.
When the CCA turns in the keys and cards for the rest of the delegation on Friday, the CCA should also note on the key/card collection form that the early departing participant's key, card and linen were turned early and separately.
Final Participant Fee Report
All 4-H Exploration Days fees should be paid before the conference – unless you are paying any remaining balance using a county fund transfer form by Aug. 15. If you have any questions about your costs, you can access your "Final Participant Fee Report" from the Reports menu of the online 4-H Exploration Days Registration System. Please use this report, along with your "Participant Payment Tracking Spreadsheet" that you used before the conference, to reconcile any remaining participant fee balances. Please note that the total amount of all fee payments remitted by your county should equal the total shown at the bottom of the total column. If you had non-4-H youth enroll, the grand total is broken down to show the amount to be deposited into 4-H Exploration Days account DS100010, subaccount 1202 and the amount to deposit into your county 4HHLD account.
If you have questions or concerns regarding any of the amounts listed on your Final Participant Fee Report, please contact Jane Love at lovejan@msu.edu.
If overpayment was made and you need to request a refund, please email your request to the MSU Extension Business Office at msuebusoffice@anr.msu.edu. Be sure to provide the name of the participant involved, amount to be refunded, payment check number, who/what entity made the original payment, the amount of the original payment, and explain why the refund is due.
MSU Pre-College Scholarship Eligibility & Nominations
After the event, county 4-H staff should determine which of their eligible participants to invite to apply for the Michigan State University Pre-College Program Scholarship. Only students in eighth, nineth or tenth grade following their MSU pre-college program involvement are eligible for consideration. This $2,000 scholarship is applied toward the student's first year at MSU as a degree-seeking student. Scholarship recipients are not guaranteed admission to MSU and must meet admission requirements upon submitting the MSU application as an incoming undergraduate – either as an incoming freshman or transfer student.
Please note that the scholarship application nomination process for Exploration Days is different than the other 4-H pre-college programs. Each county can submit one applicant or up to five percent (one for every 20) of their total number of students who attended the conference that will be going into grades 8-10 in the fall. You can round up; for example, if you had 21 eligible participants, you're allowed two applications, etc. To identify who can be considered, pull a report by graduation year from the Exploration Days registration system. Click on the green Reports box, then Future Graduate Report, then enter each graduation year eligible for this year's scholarship (remember, youth must be entering grades 8-10 following the event). 4-H Exploration Days nominees must be invited to apply by their county MSU Extension 4-H staff. County staff can use the invitation template and provide the application packet to your nominees anytime between July and early September. This is a competitive application process across all MSU pre-college programs. Approximately 60 scholarships are given annually by MSU Admissions.
To help you determine who from your Exploration Days delegation you wish to invite to apply, please consider:
Scholarship recipients are selected based on academic performance, program participation, demonstration of extra-curricular, community service and leadership experience, degree to which the student has overcome personal or environmental obstacles (i.e., resiliency), potential and desire to succeed in post-secondary education, and ability to benefit from the scholarship. County staff may wish to determine student invitation and county selection based on their attitude, behavior, active 4-H participation and whatever other criteria you wish to add.
MSU Admissions has a strong preference for nominees to have an academic performance of B or better. (Students with slightly lower GPAs can be considered but should be extremely strong in other areas to stand a chance at selection.)
There's a slight tendency for the selection committee to lean toward older kids, however this is primarily because older kids are likely to have more noteworthy experiences to list on their application since they've had another year or two to accumulate them. That said, a standout eighth grader will still be weighed equally against a nineth and tenth grader.
Homeschoolers can be selected to apply but must still submit ALL parts of the application – including a teacher recommendation (from a core curriculum "teacher" who is not a parent or other relative) and a complete list of courses, grades and overall GPA from their previously completed school year.
Lost and Found
Counties should notify the State 4-H office if they are informed of lost items. After the event, the residence hall staff will notify the State 4-H staff of items left behind by participants. Items which can be identified to an owner will be returned to the participant's county. Remaining items will be inventoried and a composite list will be sent to counties or by email approximately two weeks after the event.
Lost and found items not claimed within one month after the event will be given to the Salvation Army.
Evaluation
All counties will be asked to complete general event evaluation forms - one for each youth participant and a different form for each adult. CCAs should collect completed evaluations and turn them in to the HCAs. HCAs will turn in all evaluations collected in their residence halls to Headquarters.
Event evaluation results will be compiled and a report sent to county staff and posted on the event web site shortly after the conference.
Applying What Was Learned
Counties are urged to provide encouragement and support to local clubs to utilize and share the skills and knowledge gained at 4-H Exploration Days.
Contact
For more information on 4-H Exploration Days, contact:
Laura Potter-Niesen, Educational Program Events Coordinator
Phone: 517-432-2963
Fax: 517-353-4846
Email: potterla@msu.edu
4-H Youth Development
Michigan State University Extension
446 W. Circle Dr., Rm. 240
Justin S. Morrill Hall of Agriculture
East Lansing, MI 48824