Study Abroad Profiles
Luke Reese, associate professor, Biosystems and Agricultural Engineering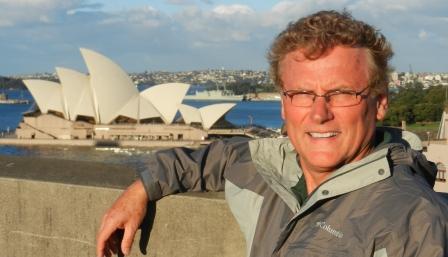 Luke Reese, associate professor in the Department of Biosystems and Agricultural Engineering, talks about his Study Abroad experiences. He's led 14 summer trips to Australia and has traveled to New Zealand with students. Additionally, Dr. Reese has taken students to Germany and Sweden. This winter, he will take students to Costa Rica to study ecological engineering in the tropics.
We asked him specifically about his experiences as a faculty member with Study Abroad. Study abroad includes many other options.
Why is Study Abroad a good learning experience for students?
Studying abroad takes the student out of their comfort zone and forces critical thinking. Even if traveling to an English speaking country, culture, context, diction and customs are different forcing students to think outside their shells.
Even for the simplest of tasks like getting from point A to B, a student might have to decipher a train, bus or ferry route and schedule, or hail a cab, or rent a bike or find a walking route and even pay in a currency that may not be green.
While it usually takes time to sink it, students return from a study abroad as global citizens putting things more in the context of the whole versus the individual.
Tell us about the trips you've taken with Study Abroad.
I've been on 14 short-term summer trips to Australia titled Sustainable Food, Environment and Social Systems. The general focus on the trip relates human impacts on the environment which translates into sustainability.
In earlier programs, the routing included New Zealand for approximately one-half of the four week program. In recent years the program only traveled in Australia and used water as a binding theme especially in light of the eight-year drought that covered most of Australia.
Last year, I also traveled on the Renewable Bioenergy Systems program to Germany and Sweden. In Germany, students in the program studied anaerobic digestion which has been in use as alternative energy system since WW II. In Germany, there are approximately 6,000 anaerobic digesters, while in the U.S., there are approximately 250 nationwide. In 2005, Germany banned traditional landfills thus the reuse of disposed materials is social policy driven in addition to environmental and energy related. In Sweden, the program studied the use of woody biomass as combined heat and power alternative energy systems.
Both of these countries faced similar energy crisis points just like the United States; however, they both took different paths and policies on the issue than the United States. Our goal on the academic study is to present differences. Students then use their critical thinking skills to put context to the issue, to compare and contrast to U.S. practices and policies and to analyze and summarize future possibilities in global contexts.
How many students travel with you on each trip?
The 2012 programs traveled with minimum numbers – seven to Germany and Sweden and 11 to Australia. In 2010 and 2011, the Australia program traveled with 21 and 19 students, respectively.
Normally a group of 15-18 is ideal because of transportation logistics, rooming arrangements and general group dynamics. In addition, with a group size of 15-18 we usually have a diversity of majors and levels, which enhances the richness of knowledge and sharing to discuss critical issues. Lastly, the entire group benefits financially with a 15-18 group size; a program must be self-supporting.
Any new adventures coming up?
We're in the process of planning a winter-break program to Costa Rica studying Ecological Engineering in the Tropics. The unique aspect of this trip is we are partnering with the University of Costa Rica (UCR) Biosystems Engineering Department, who we are partnered with on a Department of State grant. We will be recruiting students from both institutions to travel together on the two-week trip offered as a bilingual program. The reason for going during winter-break is the matching of academic calendars for MSU and UCR. University of Costa Rica students will be on summer break and thus able to travel on the program. Study Abroad also contains cultural and geographic specific learning opportunities. Participants on this program likely will celebrate Christmas day in a cloud forest which we hope will be a special day for everyone.
Costa Rica – December 15-29, 2012. Ecological Engineering in the Tropics – we've got 12 spots for MSU students!
Why is Study Abroad good for faculty members?
In general, Study Abroad is a great way to build professional networks and partnerships with both peer faculty and industry. In addition, Study Abroad allows faculty members to learn more about the students sitting in their classrooms. Due to the nature of being together pretty much constantly for an extending period, faculty are able to more extensively learn about the students they are teaching.
As instructors, we stay in the same accommodations as the students. There's nothing like walking the same youth hostel hallways as your students to truly understand study (or non-study) patterns, living patterns, time management skills, etc. As a faculty member, you gain a better respect for the challenges of today's student.
What have you gained, personally and professionally, from these Study Abroad experiences?
Personally and professionally, I have gained networking contacts, who push me outside my personal box just like the students. I, too, have had to understand language and cultural differences. Once understood, joint projects flow more smoothly and professionally.
On a strictly personal note, I have formed lifelong friendships that are priceless. In addition, it is personally and professionally rewarding to talk to students after their Study Abroad experiences. Those students often describe Study Abroad as their best experience at MSU.
For the instructor, that comment is not the reward. The reward is the direct change you can see in the student's critical thinking about issues that was learned during their study abroad - no longer just an "American" but a global American citizen.
To support CANR students and faculty in their Study Abroad adventures, make a gift.