Train the Trainer
After attending this one-day workshop,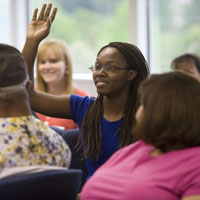 participants will be able to facilitate MSU Extension's RELAX: Alternatives to Anger curriculum. This research-based program is designed to be used with adults ages 18 and older. Potential audiences include, but are not limited to agency staff members, clients, parents and caregivers. Train the Trainer workshop participants will receive a flash drive with curriculum materials, supporting activity ideas and an evaluation tool.
To schedule a Train the Trainer for your organization, please contact Holly Tiret, tiret@msu.edu.
More information about dates and locations for RELAX: Alternatives to Anger can be found on the MSU Extension events page.