The MSU Department of Animal Science has been recognizing outstanding Michigan dairy farmers since 1958, and the MSU Dairy Farmer of the Year Award is the highest honor bestowed by the department. The Department selects a person or persons (dairy farmer) who has exhibited outstanding (1) management of their dairy farm business and (2) leadership in the Michigan dairy industry from a pool of nominees.
Latest News
Published on January 24, 2019

Blaine and Kim Baker of Bakerlads Farms in Lenawee County are recognized for their accomplishments and passion for the dairy industry.

Published on August 27, 2018

The 2019 award will be presented at the Michigan Dairy Industry Awards Banquet on Feb. 8.
2019 Dairy Farmer of the Year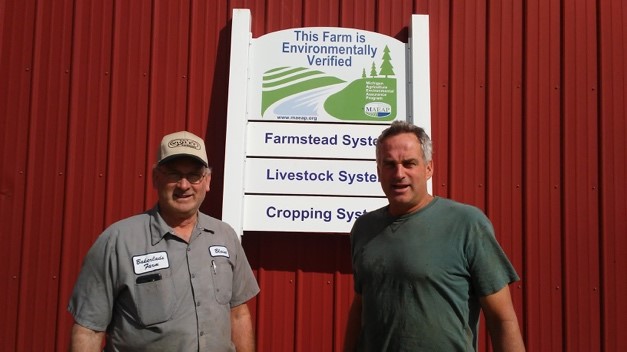 Blaine and Kim Baker. Photo Courtesy of Lenawee Conservation District.
Dairy Farmer of the Year Nominations
The MSU Dairy Farmer of the Year Award is the highest honor bestowed by the Department of Animal Science to individuals in the dairy industry. It is presented annually to a dairy farmer to recognize the recipient(s) ongoing efforts at managing an outstanding dairy operation and strengthening the Michigan dairy industry and their surrounding communities. Recipients are respected by their peers, neighbors and industry as outstanding herd managers and dairy leaders at the local, state and/or national levels.
Award nominees may be individuals, partnerships or multi-generation family partnerships. A team made up of faculty members and Extension educators select the honoree based on commitment to their operation and contributions to the dairy industry. The winner's portrait will be added to the display featuring previous winners at the MSU Pavilion for Agriculture and Livestock Education.
Nominations for the MSU Dairy Farmer of the Year Award are open around late summer on this page. The deadline to submit nominations is usually November 1. Nominations can be submitted by producers, family members, professionals, agri-business firms or other individuals.
Past Recipients
2018 - Oesch Family
2017 - Jim and Jack Winkel
2016 - Hank Choate
2015 - Mike Rasmussen
2014 - Geert and Gertie van den Goor
2013 - Bruce and Jennifer Lewis
2012 - James Reid
2011 - The Crandalls - Larry, Gloria, Brad, Monica, Mark and Sara
2010 - Earl and Diane Horning
2009 - Terry and Jean Nugent
2008 - Tom and Deanna Stamp, Linwood and Elizabeth Dale
2007 - Harold Cnossen
2006 - Ken & Larry Nobis
1999 - Jack Laurie
1998 - Larry Haywood
1997 - Wayne Haverdink
1996 - Harold and Lillian Gremel
1995 - Theron VanRee
1994 - J & L Farm - Doug Chapin & Lyle Ball
1993 - Harold, Wayne & Randy Wood
1992 - Ken Gasper
1991 - Remus Riggs
1990 - Roger Wolf
1989 - Carlos & Doug Long
1988 - Dick Gilna
1987 - Jim Fish
1986 - Elwood Kirkpatrick
1985 - Jerry Good
1984 - Jerry Surbrook
1983 - Bill Oswalt
1992 - Frank Lipinski
1981 - John Kronmeyer
1980 - Merle, Duane & Velmar Green
1979 - Paul Piepkow
1978 - Keith Brown
1977 - Fred Halbert
1976 - Wes Myllya
1975 - Walt Frahm
1974 - Eugene Erskine
1973 - Henry Gleason
1972 - Frank Merriman
1971 - Jack Dendel
1970 - Harold Blaylock
1969 - Charles Davis
1868 - Charles Donaldson
1967 - Harold Heisner
1966 - Frank Heim
1965 - Glenn Lake
1964 - Cyril Spike
1963 - Elton Smith
1962 - Ed Wright
1961 - F.W. Rules
1960 - D.F. Foster
1959 - Burton Knapp
1958 - Robin Carr