Keynote Speakers & Presenters
Keynote Speakers
John Henderson
"Keeping the Big Picture in Mind"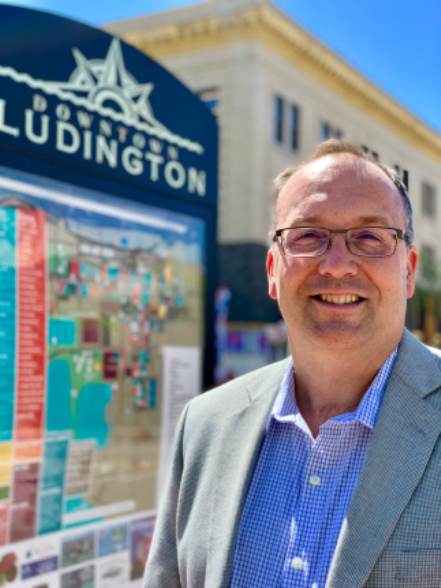 Change is never easy and it often takes the right person to implement it. In 2001, John Henderson, a then 34-year-old county commissioner, was elected mayor of the City of Ludington by a narrow margin. His goal was to get the city moving again in a positive direction and make Ludington a fun place to live, work, and visit.
After officially taking office in January 2002, Henderson quickly set his sights on the revitalization of downtown Ludington as a top priority His leadership, along with many other capable staff and partners kept pushing the boundaries, asking the tough questions and were never afraid to do the hard work.
Downtown Ludington's vitality today can be credited to the foundation set by the work Henderson did. Notable events like Friday Night Live and the New Year's Eve Ball Drop, centerpieces in our community such as the North James Street Plaza, and the development of the Downtown Ludington Board are just a few of the legacies Henderson left when his 12 years as Mayor came to close due to term limits. His focus on building relationships, communication, and collaboration are the things he credits most to breaking down barriers and motivating people to work toward a common goal.
Brian and Megan Josefowicz
"Generational Family Business and Evolution"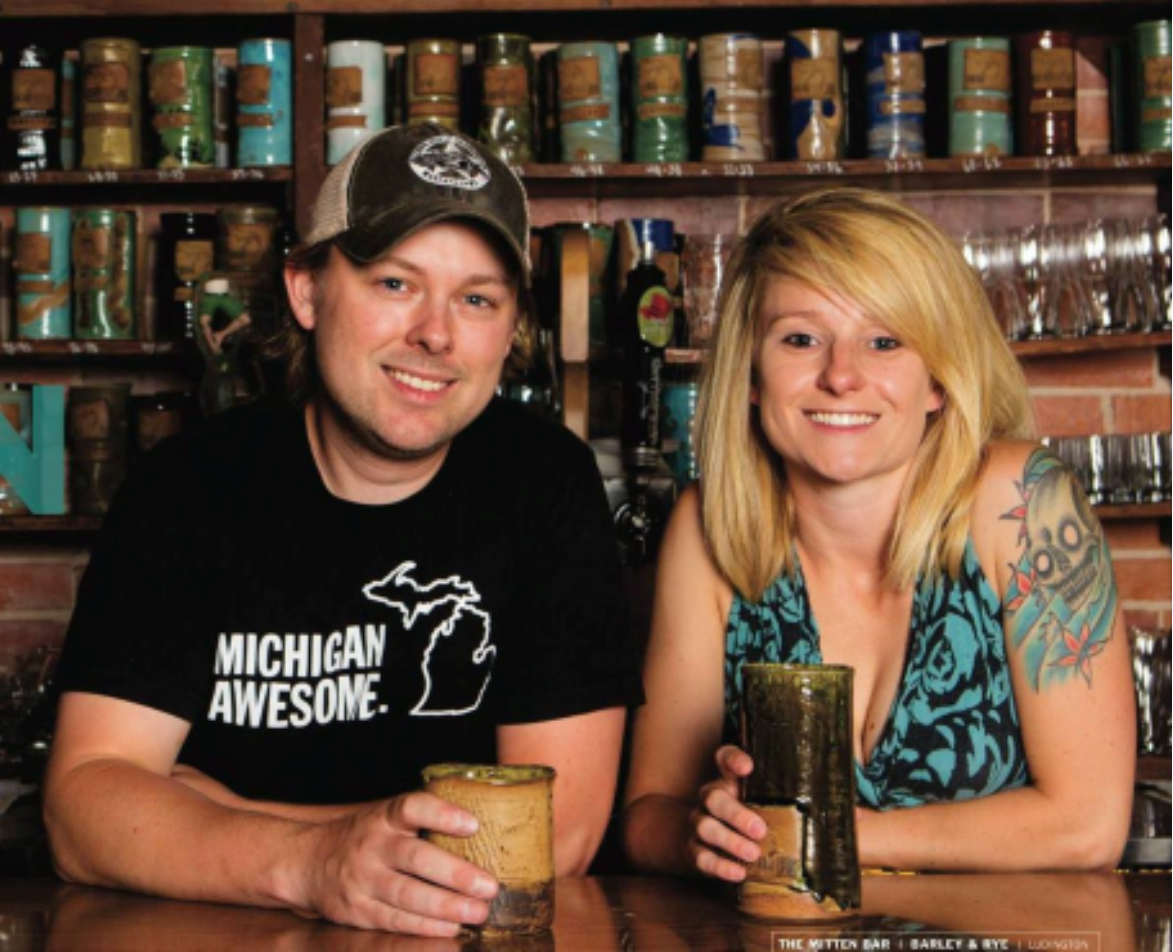 Brian and Megan are proprietors of three anchor restaurants in Ludington -- Sportsman's Restaurant, The Mitten Bar, and Barley & Rye.
Anne and Hoyt, Megan's grandparents, opened Irish Hoyt's in downtown Ludington in 1955. In 1980 Mike, their youngest son, took over as Anne and Hoyt retired. Nearly two decades later, Mike's wife Julie took the reigns and completed a total overhaul of the space. The renovation sealed its place within the community for years to come.
In November 2010, Megan and Brian converted the attached storefront into a first-of-its-kind craft beer bar. Which officially opened in June 2011 as The Mitten Bar: A Michigan Ideology, and has since received significant national exposure in various national publications.
In March 2013, the family purchased the adjacent building and created the Barley & Rye. The areas first cocktail and spirit bar offering a unique fresh casual menu.
In 2019 the businesses are undergoing another major renovation project in order to meet increased demand, combat a shrinking labor market, and streamline their restaurants by combining three kitchens and two cultures into one.
As the owners of The Mitten, Sportsman's Restaurant, and Barley and Rye — the three connected establishments on Ludington Avenue — Brian and Megan, continue to actively work on fostering a great "third place" where a community is able to gather and thrive.
Additional Presenters
Josh Adams
Josh Adams is the Owosso Main Street/DDA Executive Director. He has been in that role for six years. Owosso Main Street unites individuals, businesses, and local government to revitalize our historic downtown.
Angela Barbash
Angela Barbash is Principal of Revalue, a registered investment advisory firm founded in 2013, located in Ypsilanti, Michigan. Revalue is a fee-only firm that serves values-driven organizations and investors by providing financial services designed for impact.
Will Cronin
Will Cronin is an MSU Extension Tourism and Community Development Educator for Baraga County and District 1 (Western UP). Will works with local government, NGOs, bushiness and individuals to develop and implement a scholarly and research-based response to emerging community economic development needs. His work includes the First Impressions Tourism program, countywide community branding, organizational development, and facilitation.
Lindsey Dotson
Lindsey Dotson is the Main Street DDA Executive Director for the City of Charlevoix since 2016. Lindsey received the Main Street America Revitalization Professional credential from the Main Street America Institute in 2019 and oversees downtown revitalization efforts in Charlevoix with the support of volunteers and partners from the community.
Lindsey Gardner
Lindsey Gardner is an Educator with Michigan State University Extension specializing in government and community vitality. She is certified in the Thomas-Kilmann Conflict Mode Instrument and has completed advanced training in conflict management. She also holds a certificate in facilitation from the National Charrette Institute. Lindsey earned a Bachelor of Science in Human and Organizational Development and a Master of Education in Community Development and Action from Vanderbilt University in Nashville, Tennessee.
Rae Gosling
Rae Gosling is the Grayling Main Street Program Director and has been in that position for three years. Rae serves as an advocate and representative for Downtown Grayling stakeholders and the Board of Directors.
Tom Hineman
Tom Hinman is the Talent and Entrepreneur Development Coordinator for the Ludington and Scottville Area Chamber of Commerce and West Shore College. He has been instrumental in the business plan competitions in the area, continually evolving them to have the greatest impact on the area. He is also leads the Local SCORE Chapter and is a small business owner himself.
Jacob Hurt
Jacob Hurt is the Chief Operating Officer, Jackson (MI) Anchor Initiative. Mr. Hurt has 20 years of experience in the field of downtown and community economic development through positions in the public, private, and nonprofit sectors. He received his Certified Main Street Manager (CMSM) designation from the National Trust's National Main Street Center in 2005 and previously served as a municipal Planning and Community Development Director; the Executive Vice President of a local Chamber of Commerce; and a local Main Street Program Manager; all in his home state of Indiana.
J&K Trotter
J&K Trotter - Jonathan has almost 20 years of business experience and specializes in strategic planning, operations and finance. Along with his time spent at Goldman Sachs & Dow Chemical, Jonathan spent 8 years flying jets in the U.S. Air Force and is still a member of the Michigan Air National Guard. He has proven success at designing businesses, building strategic relationships and business development.
Kathy Jamieson
Kathy Jamieson has been an Educator specializing in the areas of money management, workforce development, and entrepreneurship for Michigan State University (MSU) Extension. She is one of the authors of Build Your Future: Choices, Connections and Careers Curriculum (2013) and the Youth Business Guide to Success curriculum (2016). Over the past 15 years, she has written over 100-researched based articles for MSU and delivered thousands of experiential educational programs in the community.
Parker Jones
Located in the Upper Peninsula, Parker Jones is part of the MSU Product Center. In this role, he works directly with agriculture and food entrepreneurs at different stages of development and larger community food systems projects. Co-presenter and Community Food Systems Educator for MSUE, Garrett Ziegler, has several years of experience in community food identity branding, and how it intersects with tourism.
Dana Kollewehr
Dana Kollewehr is the Economic Development Specialist with the Michigan Main Street program at the MEDC where she provides technical assistance, education and resources to help Main Street communities throughout Michigan best position their downtown for new investment, businesses and job growth.
David Mangum
David Mangum, Director of Urban Planning & Design, Gibbs Planning Group - David Mangum is the Director of Urban Planning and Design at Gibbs Planning Group in Birmingham, Michigan. He has worked to improve the commerce in over 100 downtowns, shopping centers and new town centers throughout North America. His expertise is in finding creative solutions to integrate retail industry standards, market-driven analytics and best practices real estate development projects ranging from small lots to entire downtowns. He holds a Bachelor of Science in Architecture from the University of Michigan and a Master of Urban Planning From Wayne State University.
Brandy Miller
Brandy Miller in the President/CEO of the Ludington and Scottville Area Chamber of Commerce. Lynne Russell is the Executive Director of United Way of Mason County.
Brad Neumann
Brad Neumann is a MSU Extension Senior Educator who serves as an educational resource for local and tribal governments across Michigan's Upper Peninsula in the areas of land use planning and zoning, community and economic development, and general governance topics. He specializes in Placemaking, planning and zoning for renewable energy systems, local government climate adaptation and mitigation, and zoning administration. Brad has worked for MSU Extension for 14 years.
Andy Northrop
Andy Northrop is Tourism and Community Vitality Educator for MSU Extension. He specializes in Sustainable Tourism Development and has directly responsible for organizing and leading more than a dozen FIT assessments across Michigan. Annually, he expands MSUE's portfolio of tourism programs to meet the growing interest in and needs for Sustainable Tourism programs both within Michigan and Nationally too. He is member of the National Extension Tourism Design Team and Global Sustainable Tourism Council.
Suzanne Perreault
Suzanne Perreault is the Small Business Specialist with the Michigan Main Street Program at the MEDC. She provides training, education, and technical assistance to strengthen small businesses within Main Street districts across the state.
Emily Proctor
Emily Proctor, citizen of the Little Traverse Bay Bands of Odawa Indians (LTBB), serves as a Tribal Extension Educator, Greening Michigan Institute for Michigan Tribal Nations, in Emmet County. She currently sits on Tribal Council at LTBB.
Mary Reilly
Mary Reilly, AICP, is a land use educator with MSU Extension. She has 25 years of planning and zoning experience. Mary lives in Ludington with her husband and two teenagers. She is happy to call Ludington home.
Dave Rowley
Dave Rowley is a Government and Community Vitality Educator with MSU Extension. Dave has over 27 years' of assessment administration experience at both general law and charter townships including 21 years as a City Assessor. He holds a MPA degree from CMU and is a MI Advanced Assessing Officer and MI Certified Personal Property Examiner.
Elissa Sangalli Hillary
Elissa Sangalli Hillary is the President of Local First. Elissa is committed to working at the leading edge of values-based capitalism, building sustainable local economies that put people first. As the President of Local First since 2007, she has brought together nearly a thousand businesses in West Michigan to collaborate in building a vibrant community that encourages sustainable business development.
Erin Strang
Erin Strang, President & CEO, Central Michigan University Research Corporation - CMURC is a professional co-working space with accelerator programs focused on product and strategic development for entrepreneurs to positively impact the economy in the Great Lakes Bay Region. The programs and services create a place where intellectual capital can be harnessed, and visions can be realized to make academic, business and community connections. In just the past year, She has worked diligently in her position to promote regionalism across the Great Lakes Bay. Originally headquartered in Mount Pleasant, to best serve entrepreneurs and small businesses, Strang's leadership allowed for a successful expansion of CMURC's reach to Bay City and Saginaw.
Crystal Wilson
Crystal Wilson is Government and Community Vitality Educator with MSU Extension. Her expertise is in Land Use Planning and Zoning. Her work supports the City of Detroit and surrounding Metro communities.
Garrett Ziegler
Garrett Ziegler is an MSU Extension Community Food Systems Educator, and he has several years of experience in community food identity branding, and how it intersects with tourism.