Staff
Barbara Bird, Biotechnology Potato Project Partnership Assistant
Barbara Bird is the assistant to the Project Manager of the Feed The Future Biotechnology Potato Partnership at CGC. This is a U.S. government global hunger food security initiative to improve potato production in Bangladesh and Indonesia. The project will produce and steward a potato for distribution to low-income farmers and commercialization. Barbara will be handling logistics for travel, workshops and subcontract invoices.
Andrew Gerard, Capacity Development Specialist
In his role as Capacity Development Specialist, Andrew Gerard supports faculty from the College of Agriculture and Natural Resources and MSU partner institutions in building capacity for global research and collaboration. Much of Andrew's effort focuses on the Academy for Global Engagement, a program jointly organized by CANR and the College of Engineering. As director of AGE, Andrew works with early- and mid-career MSU faculty Fellows to expand their scholarship globally by forging new partnerships and identifying funding for high-impact research.
While working at CGC, Andrew is pursuing a PhD in the Department of Community Sustainability. As part of his PhD, he conducts research and organizes policy engagement in support of the USAID-funded Africa Great Lakes Region Coffee Support Program in Rwanda and Burundi. Prior to coming to MSU, Andrew was a Senior Program Officer at the Global Knowledge Initiative, an international development organization based in Washington, DC. There, he worked on programs related to collaborative innovation, policy analysis, and agricultural development in East and Southern Africa. Andrew holds a Master of Public Policy from Georgetown University, with a focus on International Policy and Development, and a Bachelor of Science in Behavioral Sciences from Andrews University.
Sean Lawrie, Global Relations Specialist
Sean has been a practicing attorney for 12 years. After starting his legal career as a trial litigator, the majority of his career has been in the area of immigration law where he specialized in immigrant visas and naturalization. Sean has represented clients from over 25 different countries.
Sean received his B.A. degree from Western Michigan University and his J.D. degree from Thomas M. Cooley Law School where he also studied international and comparative law abroad at Magdalen College, University of Oxford, England.
Dr. John Medendorp, Project Manager
John holds a PhD in Higher, Adult, and Lifelong education with a specialization in international development from Michigan State University. He has worked internationally for several NGOs over the last thirty years in community development, leadership training, and higher education capacity building. At CGC, he has managed and supported capacity building projects for USAID, USDA, and the John A. Kufuor Foundation, in Bangladesh, Ethiopia, Ghana, Guatemala, Indonesia, Malawi, and Rwanda. He has presented his research on educational system development and capacity building at academic conferences around the world and continues to do research on human and institutional capacity development.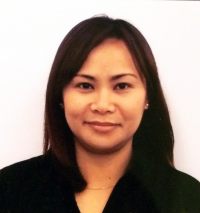 Dr. Jane Payumo, Global Research Evaluation Manager
Dr. Jane Payumo is the Global Research Evaluation Manager of the Center for Global Connections (CGC). She works closely with the CGC Director to formulate and implement the monitoring and evaluation (M&E) and global research evaluation goals for CGC and AgBioResearch. She develops appropriate metrics and tools for evaluation, collect statistical data, and conduct research and evaluation studies. She also liaises with CANR and other units in the university to build comprehensive M&E system and deploy research intelligence techniques to assist in the planning, monitoring and impact assessment of CGC and AgBioResearch activities.
Dr. Payumo's academic and policy-related publications (http://orcid.org/0000-0003-1105-5851) focus on scientometrics, innovation management, technology transfer and intellectual property management (IP) of knowledge products in agriculture. Her interests include: internationalization of science, data-driven analytics and research evaluation, IP management for development countries, econometric studies on international development, and metrics design and development.
Prior to joining MSU, she worked at King Abdullah University of Science and Technology in Saudi Arabia, Washington State University, and Philippine Rice Research Institute in the Philippines. She also has adjunct faculty appointment with Washington State University and a core faculty of MSU's Center for Gender in Global Context and MSU's Africa Studies Center. She received her Doctor of Philosophy at Washington State University, Pullman, WA; and undergraduate and Master's degrees in the Philippines both with distinction and honors.
Abby Rubley, Assistant Director & Business Development Strategist
Abby Rubley is the Assistant Director & Business Development Strategist for CGC. Her primary roles in the office include coordination of pre-award activities, building partnerships with development firms and universities, and assisting in the management of CGC. With a keen eye towards strategic partnerships and funding opportunities, Abby leads CGC's new business development team. With a renewed focus on diversifying funding and increasing grant dollars, the New Business Development team develops strategy and discovers new opportunities for faculty in CANR.
Abby previously served as the Press Secretary for the Michigan Speaker of the House.
Abby's undergraduate and graduate work from Michigan State University is in Agriculture and Natural Resource Communications and Agriculture and Extension Education, respectively.
Please contact Abby if you are applying for a funding opportunity or looking to partner with MSU on an international funding opportunity.
Borlaug Higher Education for Agricultural Research and Development