Mobile Boat Wash
Our Mobile Boat Wash promotes invasive species prevention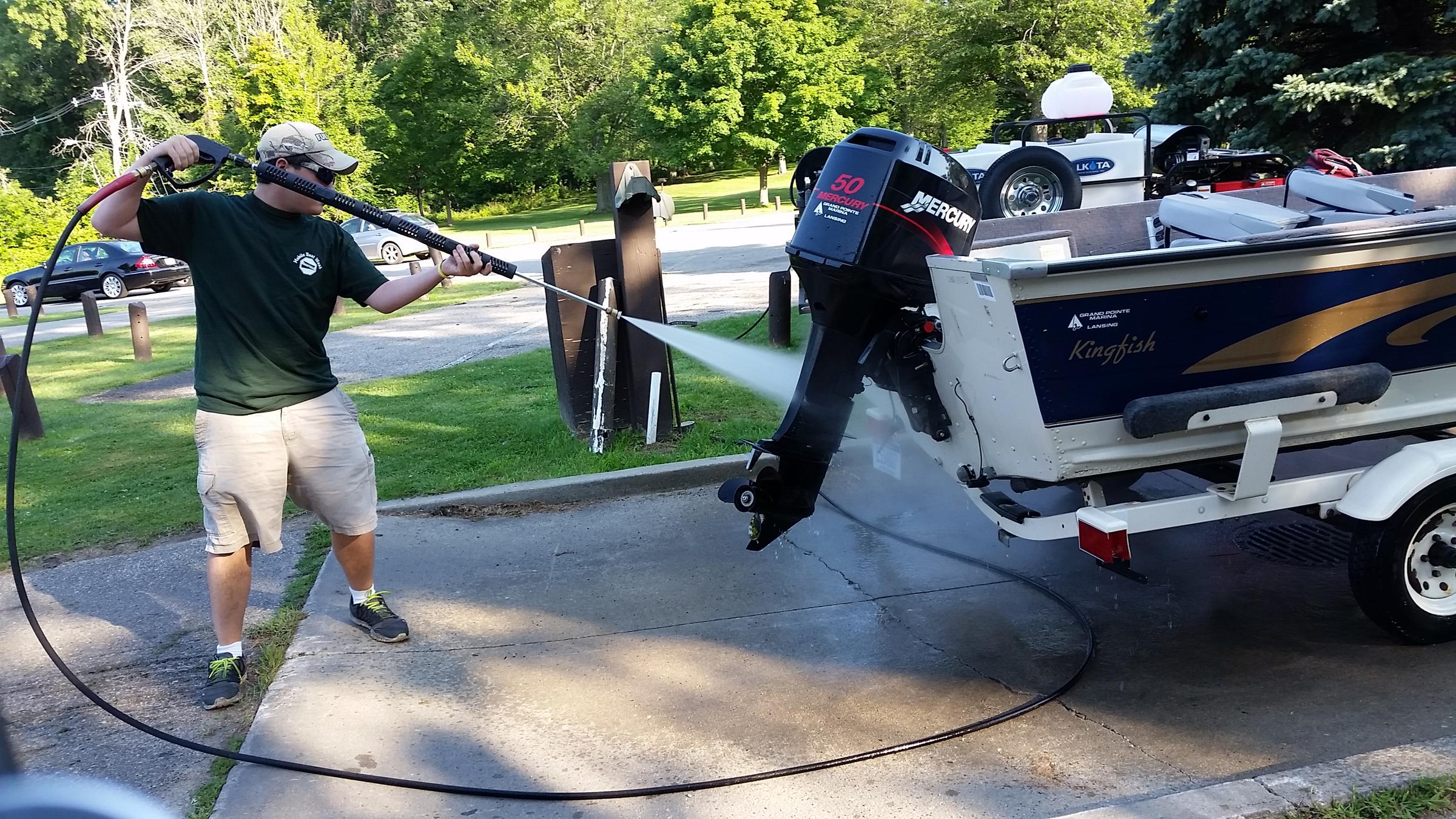 Local organizations can increase awareness of aquatic invasive species and boat cleaning practices by hosting a free Mobile Boat Wash event in their community. Our trailer-mounted boat cleaning systems use heated high-pressure water that is effective in cleaning most invasive species from boats and trailers. A containment mat prevents runoff back into lakes and rivers.
Our Mobile Boat Wash program provides a trailer-mounted washing unit, two staff who operate the unit and talk with boaters and educational materials on aquatic invasive species prevention. Local volunteers assist by coordinating local logistics, promotion and speaking with boaters during the event. The presence of the Mobile Boat Wash provides an opportunity to teach boaters the importance of "Clean, Drain, and Dry" to prevent the spread of aquatic invasive species. Check out our flyer to learn more.
Interested in bringing the Mobile Boat Wash to your community? Here are some questions to ask yourself:
When do you want to hold the event?
The program season typically runs June through mid-August. Weekends are typically busier boating days than weekdays. Is most boating at your location for fishing or for pleasure boating (skiing, tubing, cruising)? Fishing boats tend to arrive and depart early in the day, while pleasure boats come out mid-day or in the evening.
How busy is your location?
We prioritize events where we are likely to encounter many boaters.
Will volunteers from your community or organization be available to assist?
The most effective events involve local volunteers who can talk with boaters about the importance of local efforts to stop invasive species.
How will the event be promoted?
We rely on partners to spread the word about local events. Social media, print media, and word of mouth can all be effective.
Will there be sufficient room to set up the Mobile Boat Wash equipment so that traffic flow will not be impeded when it is in use?
The wash trailer is 15' long pulled behind a truck. Boaters will pull up alongside the trailer for their wash.
Is the set-up area paved, or well-packed gravel or dirt?
The containment mat on which boats will park will be damaged if set up on loose gravel, so we must avoid those surfaces.
Do you have permission from the launch manager (DNR, county, township, etc.) to host a Mobile Boat Wash event?
Written permission (formal permit, printed email, etc.) is required prior to the event. If the launch manager of a DNR-managed boat access site is unknown, that information can be found at: http://www.mcgi.state.mi.us/MRBIS/
While we can haul wash water to/from MSU for events, we prefer to fill and dispose near the event location. Is there a fresh water source available locally? A sanitary drain for wash water disposal?
RV dump stations at campgrounds are ideal for this.
Schedule an Event with the Mobile Boat Wash
Contact Kelsey Bockelman (bockelm4@msu.edu) to make a reservation.