Introduction to Lakes Online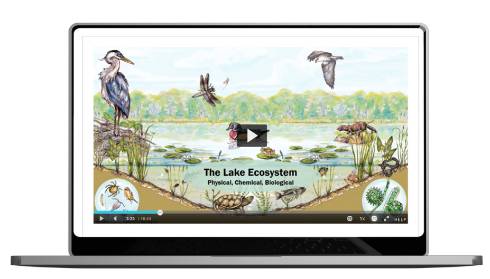 Course Overview
In this course, you will learn about inland lake ecology, management, and protection through six interactive online units. Inland lakes are complex ecosystems and are often negatively affected by both the people that live near them as well as the water that drains into them. Frequently, local communities struggle to protect and manage inland lakes in a way that incorporates the best available knowledge and resources.
Introduction to Lakes Online is designed for concerned citizens, decision makers, local leaders, resource professionals, and lakefront property owners interested in gaining knowledge about inland lakes. From the comfort of home or office, participants have 24/7 access to the course website. Each unit of the course includes closed captioned video lectures, interactive activities, discussion forums, quizzes, and additional resources for those looking to dive deeper into a topic. Each unit will take approximately 2 hours to complete. We also offer three Ask-an-Expert webinars where participants can ask MSU Extension experts and invited guest's questions related to inland lakes. The course is taught on a week-by-week basis, allowing for online communication between classmates and instructors through topical discussion forums.
Through this convenient format, participants increase their knowledge and understanding of the following six topics:
Lake ecology
Watersheds
Shorelines
Aquatic plant management
Michigan water law
Community involvement
Course instructors include Bindu Bhakta, Erick Elgin, Paige Filice, Julia Kirkwood, Dr. Jo Latimore, Brad Neumann, Mary Reilly, and Dr. Lois Wolfson.
Course Format
This is a six-week cohort based online course meaning all participants will be advancing through the educational program together in a collaborative manner. Each week a new course topic will become available for completion. Each unit takes approximately 2 hours to complete. You do not need to complete each unit the day it opens.
What to expect
Access to the course will be provided on a week-by-week, unit-by-unit basis with each new unit opening on Tuesday at 8:00 AM eastern. Each week a new unit will become available. You will not have access to all units at once. Your access to future units will be based on completion of the previous unit's quiz. The quizzes are made up of 10 multiple choice and true/false questions. Once a unit is available to view, it will remain open.
You can work on coursework at any time. The course site will be available 24 hours a day, 7 days a week. It is expected that you will complete all course work for the assigned unit per week. Each unit will take approximately 2 hours to complete.
Every other week we offer optional Ask-an-Expert webinars. These one hour webinars are specific to topics in the course and are hosted by the instructional team and outside experts. During the webinar participants ask questions to a panel via a Q&A box.
2023 course syllabus and schedule
January 2023 Introduction to Lakes Course Information

Access to the course will be provided on a week-by-week, unit-by-unit basis with each new unit opening on Tuesday at 8:00 AM. Each unit will take approximately 2 hours to complete. You will not have access to all units at once. When a unit opens, it will remain open for the entire course. A complete schedule and additional information is available in our course syllabus.
Open Date
Unit Topic
Description
1/10/23
Getting Started
Explore the Introduction to Lakes course website and introduce yourself to the class and instructors via discussion forums
1/17/23
Lake Ecology
An introduction to lake ecosystems and the exploration of basic lake functions
1/24/23
Watersheds
Primer on the water cycle, hydrologic features of a watershed, and land use impacts to lake water quality
1/31/23
Shorelines
Review of shoreline features and functions in inland lake ecosystems and best practices to protect water quality and lake habitat
2/14/23
Aquatic Plants
Introduction to plant identification, short and long-term management techniques, and regulations regarding aquatic vegetation in Michigan lakes
2/14/23
Water Law
Summary of federal, state, and local laws regarding riparian rights, navigability, and permitting on inland lakes in Michigan
2/21/23
Community Involvement
Review of institutions involved in lake management, coordinating with other lake groups, and components of a lake management plan
Ask-an-Expert webinars (attendance is not required)
2/1/23
Noon to 1:00 p.m. EST
Q&A regarding Unit 1: Lake Ecology and Unit 2: Watersheds
2/15/23
Noon to 1:00 p.m. EST
Q&A regarding Unit 3: Shorelines and Unit 4: Aquatic Plants
3/1/23
Noon to 1:00 p.m. EST
Q&A regarding Unit 5: Law and Unit 6: Community Involvement
Too busy this January to take the class? Sign-up here to be added to our email list and you will receive a notification when registration opens again next fall. Introduction to Lakes is offered once a year.
Continuing Education Credits
The course has been approved for the following credits:
Everyone who completes the course can receive a free Individual Membership to the Michigan Lakes and Streams Association for one year (a $45 value). This includes a subscription to the quarterly magazine, The Michigan Riparian.
Price
The course is $115. We are offering an early-bird rate of $95 if you sign up by 5:00 PM on December 19, 2022. Registration will close January 8, 2022.
Are you experiencing a financial hardship? If so, we have a limited number of scholarships available. Please contact Paige Filice at filicepa@msu.edu for more information.
Special Pricing for Michigan Lake and Stream Association Members
Current individual members of the Michigan Lakes and Streams Association (MLSA) are eligible to receive a $95 reimbursement upon successful completion of the course! Not an MLSA member? Join as an Individual Member prior to completing the course and you too can take advantage of this opportunity. Learn more about MLSA at https://mymlsa.org/.
To register follow the three steps below
STEP #1: Create your Michigan State University Guest Account by selecting the Create Your MSU Guest Account button below. (For detailed instructions visit the following web page: Instructions: Creating Your Guest Account.) Once you have created your guest account, close your browser and return back to this page.
STEP #2: Click on the button below to login to the registration system with your Guest Account (your email) and Password. Upon registration you will receive an email with instruction on how to login to the course.
Register For The Introduction to Lakes Online Course
STEP #3: Once you are registered you may login to the course. Note the course will not be viewable until January 10th.
Refund Policy
Full refunds will be issued before the course begins on January 10. If you need to withdraw from the course after January 10, you can request a partial refund of $50 until January 17, 2023. Once your request is received, you will no longer be able to access the course. No requests for refunds will be considered after January 18, 2023.
---
Technical Assistance
If you have any technical problems registering, please contact the Michigan State University IT Service Desk from 7am-12am Monday through Friday and 10am-12am on Saturday/Sunday, any day that the University is open.
Phone: (517) 432-6200
Phone (toll free): 1 (844) 678-6200
Frequently Asked Registration Questions
What is my username/NETID?
Your username (or NET ID) is the email address you used to create your account during registration (you use the same email address/password for registering and for taking the course).
What URL do I go to for logging into the course?
Go to: https://d2l.msu.edu/. You will see the Michigan State University at the top of the page. Login with the email address and password you set during the registration process.
I received a "not authenticated" response when trying to login – what do I do?
A "not authenticated" message is typically an issue with a password not being entered correctly.
I forgot my password – where can I reset it?
If you need to reset your password at any time go to https://auth.msu.edu/ and select the option for "Need help Signing in."
---
More Information
Have a question about the course? For more information, contact Paige Filice at filicepa@msu.edu.
---
Instructor