PDC 420: Advanced Digital Graphic Communication
Course Code: PDC 420
Credits: 3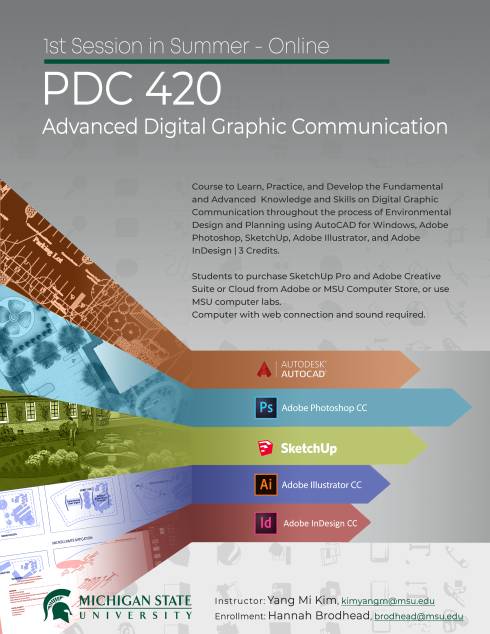 Course to learn, practice and develop the fundamental and advanced knowledge and skills on digital graphic communication throughout the process of environmental design and planning. This course will teach about the use of AutoCAd for Windows; Adobe InDesign, Illustrator and Photoshop; and Sketchup.
Students with some background in Adobe Photoshop, InDesign and Illustrator, SketchUp and/or AutoCAD can receive an override to enroll, even if they haven't completed PDC 120 first.
Course is Offered
Summer semester online.
Course Requirements
Students to purchase Adobe Creative Suite or Cloud from Adobe or MSUComputer Store or use MSU computer labs. Computer with web connection and sound required.
How to Apply
Current students can access courses through regular enrollment channels. Open to non-MSU students if space is available. The public may access course as Lifelong Education.
---
Instructor