Welcome Newborns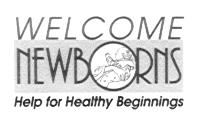 The mission of the Welcome Newborns program is to provide support to Delta County parents of newborns by providing information and education about child development, health care, and community resources.
The Welcome Newborns program provides every family with a newborn, a tote bag full of information on the development of their baby, the need for immunizations, parenting, the importance of reading to your baby, the affects of second hand smoke on children, and available community resources for the family in Delta County.
Families receive Parenting the First Year Newsletter, which gives helpful hints to parents on their baby's development, parenting, and the support of the family. Each month the family receives a newsletter outlining the age of the baby and its development.
After the first year, the baby's family will continue to receive a newsletter for the baby's second and third year. This supports the family by giving them information on the development of the baby, what to expect, how to approach and parent young children, and how to take care of themselves so they can take care of their child.
Welcome Newborns also provides a home visit from staff to any family who makes a request. The visitor reviews the information in the tote bag, goes over the curriculum "Don't Croak on Secondhand Smoke", answers questions about the baby and gives information on community resources, and provides the family with a gift for the baby.
For more information about Welcome Newborns contact the Community Action Agency and Human Resources Authority, Inc. at 906-786-7080.