ABC's of Early Literacy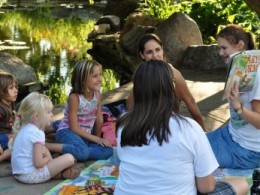 Improving early childhood literacy to increase third-grade reading proficiency
U.S. Department of Education statistics indicate that an alarming number of young children (nearly one in five) enter kindergarten without the emergent literacy skills to be successful. Recent Michigan Education Assessment Program (MEAP) testing found that over 43 percent of fourth graders achieved unsatisfactory scores in reading. Additional research indicates that children who cannot read proficiently by 4th grade are more likely to do poorly in school and to end up dropping out of high school.
The focus of MSU Extension's Early Childhood Literacy Target Program is to increase:
Parents' and other caregivers' awareness of the importance of literacy skills and their understanding of activities which can enhance this critical skill
The amount of time that parents and caregivers read to their child(ren)
The number of low-income children who have access to quality children's books
The amount of time that children spend in activities which help to increase their literacy levels;
The amount of time that children spend reading on weekly basis
To reach these outcomes, the Early Childhood Literacy program focuses on two projects. The first is educating parents and other care-giving adults about the importance of and ways to help children develop literacy skills through the A-B-C's of Early Literacy. The second is getting books into the hands of children across the state.
Participants that participate in the ABCs of Early Literacy workshop will be able to:
Understand the importance of children attaining reading proficieny by the end of 3rd grade.
Identify factors that place a child at risk for reduced skill levels related to literacy development.
Learn and understand the components of emergent literacy development.
Receive a variety of resources that support literacy development.
For more information, contact an early childhood educator near you.
Resources: