Current students
Undergraduate advisors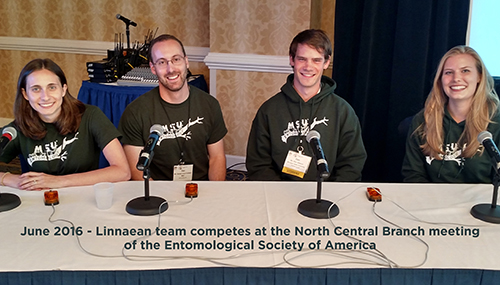 Drs. Walt Pett and Chris DiFonzo advise all undergraduate students in our undergraduate degree program. They are happy to respond via email or phone:
Dr. Walter Pett
pett@msu.edu
517-353-7191
Dr. Christina DiFonzo
difonzo@msu.edu
517-353-5328
Graduate degree advising
Graduate students work primarily with their major professor for their advising needs. Questions on policies and procedures regarding graduate degree programs can be directed to Dr. Anthony Cognato, Entomology's Graduate Program Director, or Heather Lenartson-Kluge, Entomology's Graduate/Undergraduate Secretary.
Graduate Program Director
Dr. Anthony Cognato
cognato@msu.edu
517-432-2369
Graduate/Undergraduate Secretary
Heather Lenartson-Kluge
lenartso@msu.edu
517-355-4665
Useful links
Student handbook: Guide to Graduate Study
Time sheets for student employees:
Computer support (College of Natural Sciences) - Submit a ticket for department computer questions or problems
News or photos to share with the Department: send to Joy Landis, landisj@msu.edu

MSU Entomology supports cultivating a safe and inclusive campus community that is free of sex discrimination, sexual harassment, and sexual violence. For resources, making a report or to understand policies, see the MSU Title IX website.