Entomology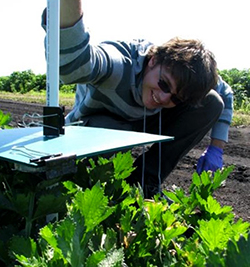 Undergraduate students can earn a major or minor in Entomology, leading to a bachelor of science degree. Courses are designed to give the student an understanding of the structure, classification, identification, function, biology, ecology, and management of beneficial and harmful arthropods, and the communities and ecosystems where insects occur.
There are opportunities for undergraduate Entomology students to carry out research projects in department laboratories. Students may also gain work experience in the diverse areas of entomology through employment. Internships and study abroad opportunities are also available, and are strongly encouraged.
Interested in joining us?
Apply now! Visit the Office of the Registrar for information on the requirements for a B.S. degree in Entomology and the requirements for an Entomology Minor.
Opportunities for students
Entomology students have access to many opportunities outside of the classroom, including research projects and paid summer jobs in many entomology faculty programs. Some companies, such as Rose Pest Solutions, also offer summer internships to department undergraduates.
Undergraduate students are eligible for departmental funding to support travel to scientific meetings, such as the annual National Entomological Society meeting, or for Study Abroad Programs.
Using your degree
Insects are everywhere, and so are people who work with insects! Insects are important in careers that involve agriculture, natural resources, human & veterinary medicine, forensic investigation, ecology, biomonitoring, genetics, molecular biology, and toxicology. Careers may involve many activities, including teaching, research, public outreach, regulatory inspection, pest scouting and control, and insect rearing. Entomologists work for schools and universities, museums, parks, and zoos, agribusiness, pest control companies, non-profit organizations, government agencies, and the military.
Contact information
Our advisor welcomes hearing from you to plan your studies and career with entomology. She is an important resource for you. Contact:
Undergraduate advisor
Amanda Lorenz-Reaves
517-355-4061
lorenzam@msu.edu
Undergraduate secretary
Heather Lenartson-Kluge
517-355-4665
lenartso@msu.edu