CANCELED: 2020 Future of Sustainability Symposium
March 27, 2020 10:30AM - 5:30PM
152 Natural Resources Building
---
Contact: Julie Markiewicz (markie11@msu.edu) or Anna Lee (leeanna1@msu.edu)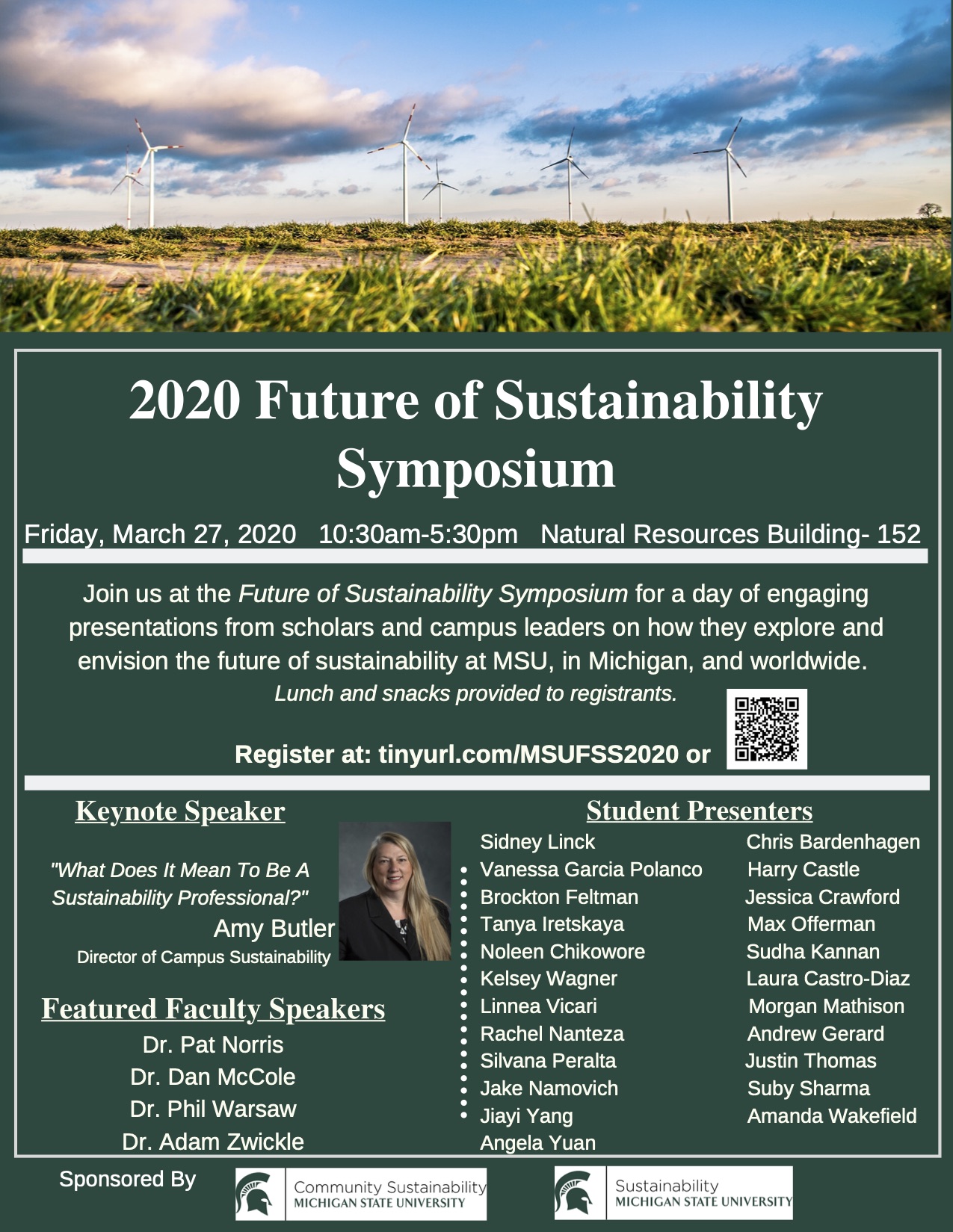 THIS EVENT HAS BEEN CANCELED DUE TO MSU'S RESPONSE TO THE NOVEL CORONAVIRUS.
READ MORE ON THE MSU 2019 NOVEL CORONAVIRUS WEBSITE.
We are excited to announce the 2020 Future of Sustainability Symposium, returning after a few-year hiatus.
This symposium will:
Highlight research and projects within Community Sustainability and the broader sustainability community at MSU.
Bring together faculty, graduate students, and undergraduates engaged in sustainability to promote communication and cooperation.
Provide a forum for students to receive feedback from peers within the sustainability field.
Lunch and snacks will be provided to registrants.
---
Keynote
"What Does It Mean To Be A Sustainability Professional?"
Amy Butler, Director of Campus Sustainability
Featured Faculty Speakers
Dr. Pat Norris
Dr. Dan McCole
Dr. Phil Warsaw
Dr. Adam Zwickle
Student Presenters
Sidney Linck
Vanessa García Polanco
Brockton Feltman
Tanya Iretskaya
Noleen Chikowore
Kelsey Wagner
Linnea Vicari
Rachel Nanteza
Silvana Peralta
Jake Namovich
Jiaya Yang
Angela Yuan
Chris Bardenhagen
Harry Castle
Jessica Crawford
Max Offerman
Sudha Kannan
Laura Castro-Diaz
Morgan Mathison
Andrew Gerard
Justin Thomas
Suby Sharma
Amanda Wakefield
Sponsored by the Department of Community Sustainability and Office of Sustainability at Michigan State University.
Get Directions
Related People