2021 MI 4-H Horse Program's Virtual Communications Contest
May 1, 2021 - May 29, 2021
Registration Deadline: May 24, 2021 - 11:59PM
Virtual
---
Contact: For information, contact Taylor Fabus at tenlenta@msu.edu.
Providing opportunities for youth to showcase their communication skills, all while interacting a positive, online environment.


Youth of all ages have the opportunity to compete in both Public Speaking and/or Demonstration Contests. Entries will be in the form of submissions in the Facebook group "MI 4-H Horse Program's Virtual Communications Contest" (https://www.facebook.com/groups/508990406452063) or via email to tenlenta@msu.edu. Each entry will be judged and scoresheets with feedback will be kept private, and emailed directly to the youth participant. Entries must be submitted during the appropriate contest time frames (described below). Contest results will be shared in the Facebook group as well as on the page "Michigan 4-H Horse Program" (https://www.facebook.com/MI4HHorseLeaders/). Prizes will be mailed to 1st place winning participants. Contests are $5 each to enter.
Complete event rules can be found at: https://www.canr.msu.edu/horses_ponies/registration-information.

CONTEST DIVISIONS:
Out of state participants (all ages)
Junior (ages 8-13)
Senior (ages 14-19)
Cloverbud (ages 5-7)
CONTEST SUBMISSION WINDOWS:
Public Speaking

Out of State & Senior participants (May 1-4)
Junior & Cloverbud participants (May 5-8)

Demonstration

Out of State & Senior participants (May 9-12)
Junior & Cloverbud participants (May 13-16)

Infographic: May 17-19
Edited Demonstration Video: May 20-23
Photography

Out of State & Senior participants (May 24-26)
Junior & Cloverbud participants (May 27-29)
Related People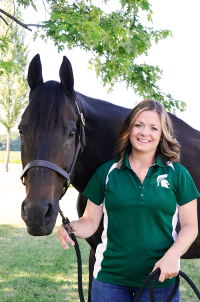 ---