2021 Statewide Grape Spring Kickoff
March 23, 2021 1:00PM - 4:30PM
Zoom
---
Contact: For more information about the program, please contact Esmaeil Narollahiazar at nasroll2@msu.edu or Annette Kleinschmit at kleinsc7@msu.edu.
Join wine grape growers from across Michigan at the virtual 2021 Statewide Michigan Grape Spring Kickoff on March 23, 2021 from 1 - 4:30 p.m. EST hosted by Michigan State University Extension. This program is free and offered via Zoom.
Early spring is an excellent time of year for vineyards and wineries to prepare, adjust and incorporate new practices and products. This online event will kick off the growing season and focus on industry updates and outlooks, and grape pest and disease management. This agenda is being updated and actual times may vary. Participants will receive a final agenda with their Zoom link.
Tentative Agenda (time slots and durations may vary)

| | | |
| --- | --- | --- |
| Time | Speaker | Title |
| 1-1:15 p.m. | Mike Reinke, IPM Educator, MSU Extension | Introduction: MSU Extension Announcements |
| 1:15-1:45 p.m. | Jeff Andresen, Environmental Quality Specialist, MSU Extension | 2021 Michigan Weather Outlook for Grape Growers |
| 1:45-2:15 p.m. | Keith Mason, Enviroweather, MSU | Enviroweather Tools for Grape Growers |
| 2:15-2:30 p.m. | Break | |
| 2:30-2:40 p.m. | Michigan Grape Society | Introduction |
| 2:40-2:50 p.m. | Parallel 45 | Introduction |
| 2:50-3 p.m. | Michigan Wine Collaborative | Introduction |
| 3-3:20 p.m. | Esmaeil Narollahiazar / Nikki Rothwell, MSU Extension | NW Station, Project Updates and Plans / NWMHRC's Lab Expansion Project Announcement |
| 3:20-3:35 p.m. | Break | |
| 3:35-4 p.m. | Rufus Isaacs, Dept of Entomology, MSU | Grape Pest Update |
| 4-4:25 p.m. | Tim Miles, Dept of Plant, Soil and Microbial Sciences, MSU | Grape Disease Resistance Management Tools and Techniques |
Michigan Restricted Use Pesticide (RUP) applicator recertification credits for private and commercial fruit (1C) have been applied for and should be available for attending this meeting. Participants will also receive a post-webinar survey to complete.
Growers must register ahead of time for this free webinar. Registration closes at midnight the day before the webinar (March 22) so don't miss out! Participants will receive a Zoom link the morning of the meeting and will need to download Zoom to their computer or smartphone prior to this to access the meeting. The virtual format allows grape growers from all over Michigan and the Midwest to attend the meeting. For questions or more information, please contact Esmaeil Nasrollahiazar, MSU Extension Viticulture Educator at nasroll2@msu.edu or call 231-256-9888.
Related People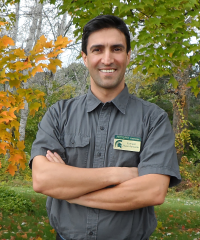 Esmaeil Nasrollahiazar
nasroll2@msu.edu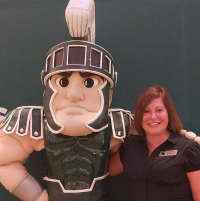 Annette Kleinschmit
kleinsc7@msu.edu
---