4-H Future Squad: Disaster Strikes...Now What?
May 14, 2022 10:00AM - 12:00PM
Registration Deadline: May 12, 2022 - 09:00PM
Macomb County MSU Extension 11370 Hupp Ave. Warren, MI 48089
---
Contact: Seth Martin mart1885@msu.edu or Katelyn Golembiewski burnska9@msu.edu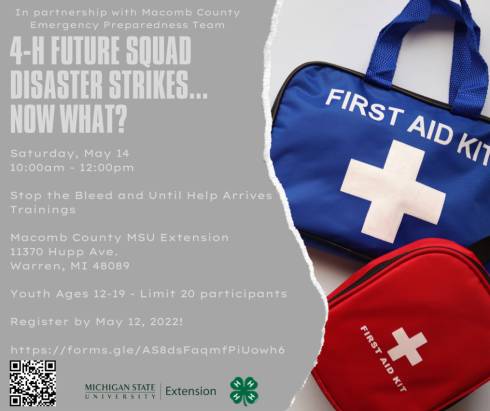 Join 4-H and the Macomb County Health Department Emergency Preparedness Program for this important Emergency Preparedness workshop!
This in-person 4-H Future Squad session will help you work through being prepared for those unexpected scenarios and emergencies that sometimes arise in life. Learn about the importance of emergency preparedness. Work with peers to discuss emergency scenarios, and create your own emergency bag to take home with you. The Until Help Arrives and Stop the Bleed programs both teach basic skills to help keep people alive and safe until professional help arrives. The program is designed to educate and empower the public to take action in an emergency situation and provide lifesaving care before professional first responders arrive.
This presentation will include some components of the Until Help Arrives Program Paired with the complete American College of Surgeons Stop the Bleed Program to provide a well rounded presentation equipping participants to be "The Help Until Help Arrives."
For youth ages 12-19, Limited to 20 participants
Saturday, May 14th - 10:00am - 12:00pm
Macomb County MSU Extension
11370 Hupp Ave. Warren, MI 48089
COVID-19 UPDATE: We are planning for an in-person program. All participants, regardless of vaccination status, are required to: 1) complete the Macomb County Daily Self-Screening Questionnaire -- https://tinyurl.com/yaeya29f -- on May 14, 2022 prior to attending.
Please contact Katelyn Golembiewski (burnska9@msu.edu) or Seth Martin (mart1885@msu.edu) for all questions.
Registration for this event has closed.
Get Directions
---