4-H Hunting and Wildlife Series Spring 2023
February 5, 2023 1:00PM - 3:00PM 1:00-3:00pm
Registration Deadline: February 3, 2022 - 12:00AM
Outdoor Location will vary.
---
Contact: MSU Extension 4-H office at 517-264-5300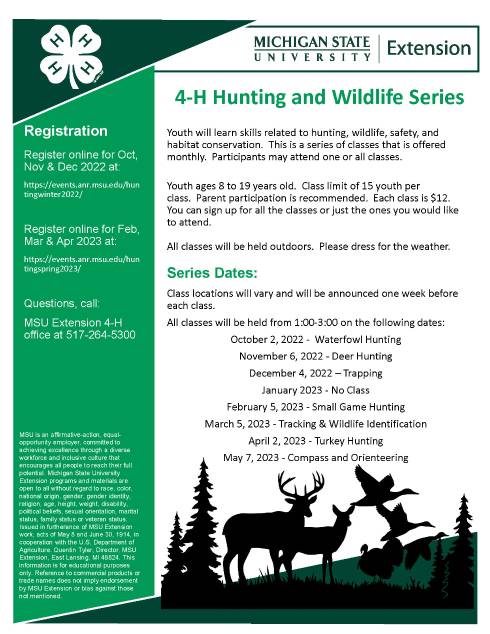 Youth ages 8 to 19 years old. Class limit of 15 youth per class. Parent participation is recommended. Each class is $12. You can sign up for all the classes or just the ones you would like to attend.
All classes will be held outdoors. Please dress for the weather.
Class locations will vary and will be announced one week before each class.
All classes will be held from 1:00-3:00pm on the following dates:
February 5, 2023 - Small Game Hunting
March 5, 2023 - Tracking & Wildlife Identification
April 2, 2023 - Turkey Hunting
May 7, 2023 - Compass and Orienteering
Registration for this event has closed.
Get Directions
---