4-H Shooting Sports Instructor Training Workshop
June 3, 2023
5211 19th Ave N Escanaba, MI 49829
---
Contact: Laura Quist , Ashley Freed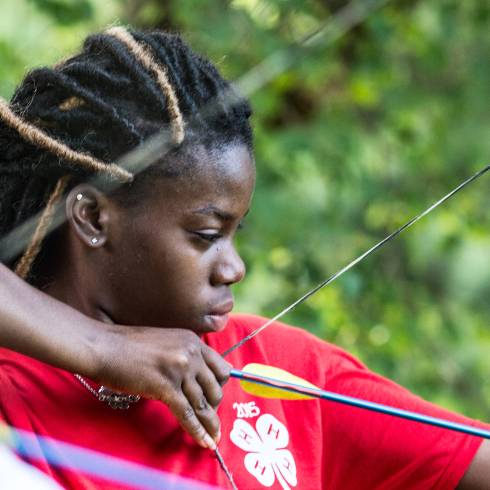 Save the Date!
Held in Escanaba -- registration opens soon!
Shooting Sports Instructor Certification Workshop (Level 1)
Featuring archery or rifle instruction!
Who should attend? Gold volunteers age 21+ who successfully complete this workshop and all other requirements will receive the certification necessary to become a Michigan 4-H Shooting Sports instructor. Teen Leaders age 14+ (by January 1, 2023) are also encouraged to take this workshop.
ONE-DAY workshop format! Hands-on training will be delivered in a single day.
Offering certification in Archery or Rifle Disciplines. Each course offers an independent course, leading to its own certification.
Program features online video modules that must be completed one-week prior to the event.
(Modules may be available for viewing at county offices. Contact your county 4-H staff for details.) Pre-work leads to a shorter in-person training workshop!
Modules may be watched prior to registration and includes:

Introduction to Michigan 4-H
Working with Youth
4-H Shooting Sports: Introduction
Risk Management (available here)
Workshop purpose: Only 4-H certified instructors can lead live-fire, on-range shooting and archery experiences for youth in the 4-H Shooting Sports program. Participants will learn about the Michigan 4-H Shooting Sports' mission and policies as well as our unique program focus on positive youth development. Other key concepts covered include risk management, safety, specific equipment use and care, teaching methods to help youth take their first shot, range set-up and more. Discussions will also include how to develop, expand and maintain local 4-H Shooting Sports clubs. Sessions are taught by 4-H volunteers who have successfully lead clubs at the local level and have completed additional training to deliver workshop content.
Active GOLD status is required to register; contact your local 4-H staff person for details on becoming a 4-H volunteer.
Get Directions
Related People
---